Florida Cop Who Wore QAnon Conspiracy Theory Patch While Greeting Pence Demoted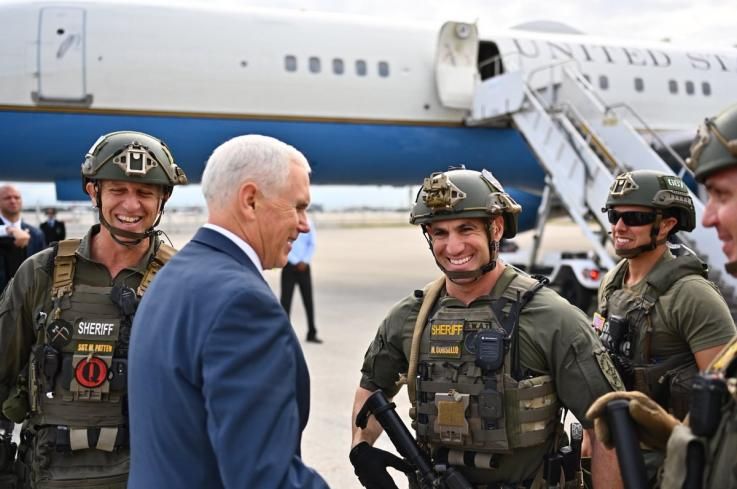 A SWAT team officer in Broward County, Florida, has been demoted after meeting Vice President Mike Pence while wearing a patch referencing the QAnon conspiracy theory.
When he met Pence on Friday at Fort Lauderdale-Hollywood International Airport, Sergeant Matt Patten was wearing a patch on his uniform with a black 'Q' and the phrase 'Question the Narrative.'
A picture showing Patten wearing the patch was removed from the vice president's Twitter feed after news organizations reported the patch's meaning.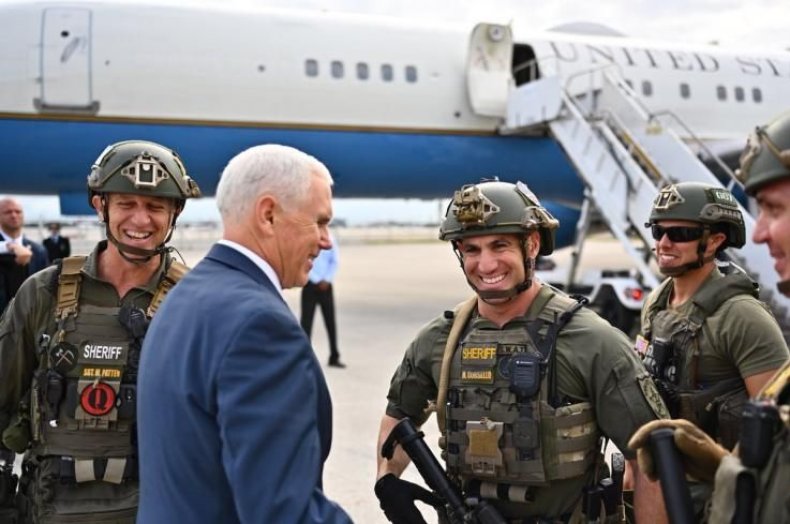 Broward County Sheriff's Office issued a written reprimand to Patten, reported the Miami New Times Monday, stating the conspiracy theory was "controversial" and made the department seem "biased" politically.
"This resulted in negative ramifications on a national platform as a controversy for the Broward Sheriff's Office, the County, the SWAT team, and Sergeant Patten," the reprimand said. "The controversy also caused the V.P.O.T.U.S. Office Website to delete the image."
Patten has been removed from the sheriff's office's strategic investigations division's Office of Homeland Security and from the agency SWAT team, Broward County Sheriff's Office spokeswoman Veda Coleman-Wright told Local10 News.
Patten will be reassigned to the Department of Law Enforcement, she said.
The QAnon conspiracy theory emerged on messaging board 4Chan in 2017, with a poster named Q claiming to be a senior government official leaving a series of cryptic clues.
Devotees have spun the clues into an elaborate and bizarre conspiracy theory, alleging that President Donald Trump is preparing to take down a child abuse ring run by senior Democrats and Hollywood figures.
The baseless theory has gained celebrity followers, including actor and Trump backer Roseanne Barr.
In recent months, QAnon followers have attended Trump rallies in Florida and elsewhere, holding signs and wearing clothing emblazoned with QAnon slogans.
In August, a man charged with terrorism offenses after attempting to block traffic near the Hoover Dam in Nevada using an armored car and demanding the release of secret documents he said Q told him the government was withholding, while Q-inspired groups have patrolled the Arizona desert seeking child sex trafficking camps.
An NBC News investigation traced the conspiracy theory to three people, who spread the theory on social media channels and built dedicated Reddit and YouTube communities committed to unraveling the clues.