Florida Man Sets Woman's House on Fire After Dispute at Bar: 'You're Going to Regret This'
A Florida man was taken into custody over the weekend for allegedly threatening a woman and setting fire to her home following a dispute at a bar.
Richard Caldwell, 30, was charged with arson and burglary on Saturday after he returned to the scene of the blaze, which occurred at a residence on the 400 Block of Southwest Crawfish Drive in Port St. Lucie. Authorities responded to reports of a fire at approximately 5:05 a.m.
Investigators said the suspect had been involved in a dispute with the victim at a local bar earlier in the morning, without elaborating on what sparked the disagreement. The victim left the bar with her friends but when she returned home Caldwell was inside the residence.
When the woman asked Caldwell to leave, he allegedly responded by threatening her, warning "you're going to regret this." The victim claimed he had been holding a bottle of lighter fluid in his hand. The woman left the home with her friends after the confrontation with Caldwell. When authorities later responded, they said the house was "fully engulfed in flames."
No-one was inside the residence at the time of the incident and officials from the St. Lucie County Fire and Rescue were able to extinguish the fire. Despite their efforts, the structure was destroyed.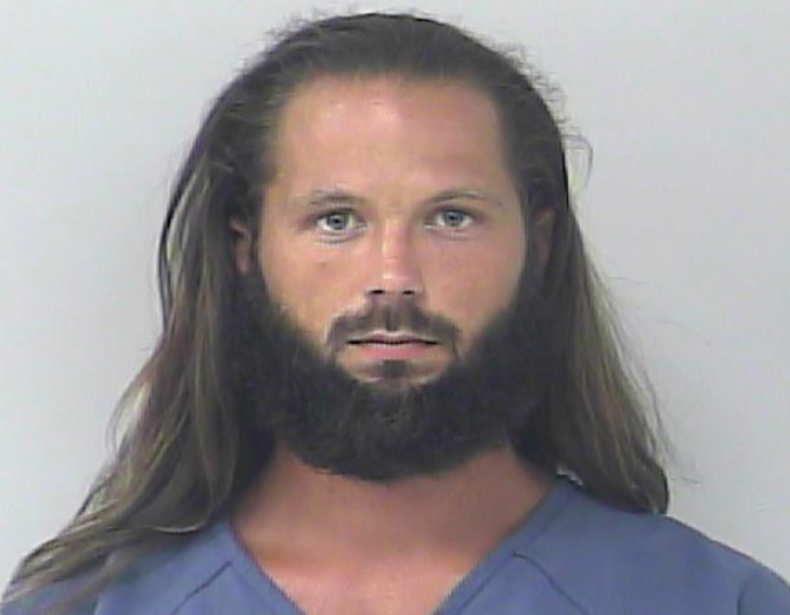 As first responders attended to the incident, Caldwell arrived at the location and was detained by investigators after a police K9 dog picked up the scent of accelerant on his shoes.
Police said the K9 also sniffed accelerant "at multiple points of origin around the exterior of the dwelling as well as inside of Richard Caldwell's vehicle." Authorities noted there was a strong smell of lighter fluid outside the residence. No other homes were affected by the blaze.
Despite the flames being put out, officials said there had been severe damage to the home. The American Red Cross assisted the unnamed victim with housing, TCPalm.com reported.
The Port St. Lucie Police Department released the suspect's mugshot to Facebook on Saturday and posted several pictures which showed law enforcement and fire officials attending to the Crawfish Drive incident. Additional images showed the massive amount of destruction the fire caused to the woman's home.
Caldwell was transported to the Port St. Lucie Police Station where he was interviewed before being arrested and charged. He was then taken to the St. Lucie County Jail. Inmate records confirm the suspect was charged with burglary of an unoccupied dwelling while unarmed alongside second degree arson. He is currently being held on a $100,000 bond.