Florida Prepares to Reopen Schools as COVID-19 Child Hospitalizations Jump 23 Percent in a Week
As novel coronavirus cases in Florida approach nearly 451,500, hospitalizations among infected children have surged by nearly a quarter in eight days, while new cases among children also rose by 34 percent in the same period, the Florida Department of Health confirmed.
The latest spikes come as schools in Florida prepare to reopen next month following an order issued by Florida Education Commissioner Richard Corcoran requiring school districts to open "brick and mortar schools five days per week," unless advised otherwise by Florida health authorities, the order confirmed.
COVID-19 hospitalizations among those under the age of 18 increased from 246 reported on July 16 to 303 reported on July 24, marking a more than 23 percent spike in just over a week, according to latest data from the Florida Department of Health.
On July 16, just over 23,000 infections were reported to be among children, which surged by over 34 percent to more than 31,000 cases on July 24, according to the latest figures from the department.
The department also confirmed the positivity rate among children increased from 13.4 percent on July 16 to 14.4 percent on July 24. Five children have died so far following infection, including a nine-year-old girl, Kimora "Kimmie" Lynum, who died earlier this month, becoming the state's youngest person to die from the virus. She had no known underlying conditions, according to her family.
The latest surge in infections follows ongoing debate about the reopening of Florida schools among education authorities, parents and health workers.
On Wednesday, Florida Gov. Ron DeSantis confirmed school districts can make their own decisions about reopening schools in the best interest of their students.
"We do believe, fundamentally, in providing parents with the choice (distance learning) or returning to the classroom," DeSantis said Wednesday at a roundtable discussion, joined by Corcoran, held at Paul B. Stephens School in Clearwater.
"There are limitations when it comes [to] distance learning, in particular when you are talking about school children that have special needs.
He also said schools may delay their start date as needed: "We [would] much rather have a successful school year if it's a couple weeks late than kind of go into it and not be ready to handle the situations that may develop," Florida's WFX-TV reported.
Corcoran added: "I think you're going to see, come the end of August, when our schools have all of those different options for students, you're going to see 60 plus to 90 percent most of them choose face-to-face [learning]."
While the governor has three children who are not yet old enough to attend school, he noted: "I would absolutely have my kids in school because I do think it's safe to do so, that this is something that's very low-risk for kids, I don't think the science has shown that kids are major vectors of spreading the virus."
"Many students will suffer academic and physical and mental health consequences if they're not able to get back into the classroom, I think that it's already happened," DeSantis claimed.
But several health officials have warned of the dangers of reopening schools and overlooking the risks of children spreading infection.
On Wednesday, the Florida Chapter of the American Academy of Pediatrics, a major body of pediatricians, sent an 11-page paper to the governor, which warned that the "coronavirus prevalence will not decrease enough in the next 4-6 weeks to make the benefits of school attendance outweigh the risks."
"Therefore, the FCAAP (the Florida Chapter of the American Academy of Pediatrics) recommends that school districts in locales with higher positive test rates (≥ 5 percent) that do not meet the 14-day criteria delay the start date for school until positive testing rates are lower," the paper said.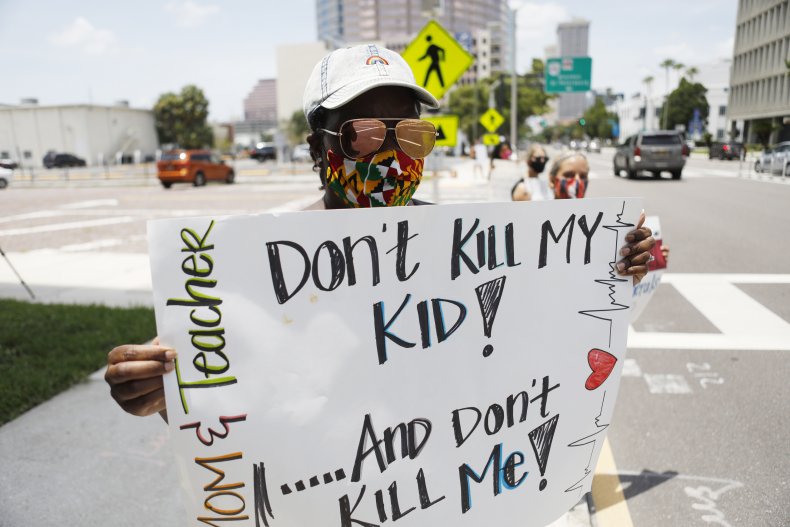 Immunologist Mona Mangat, a physician in St. Petersburg, told NBC 6 South Florida: "Science and evidence warns us that putting hundreds and thousands of young people, teachers and staff together in enclosed spaces like school buildings is an invitation for a COVID-19 superspreader event.
"We know there are going to be cases of COVID-19 once school begins in the school system and currently the state of Florida has less than half the number of contact tracers that are needed," she added.
Earlier this month, the Florida Education Association, a labor union for teachers and other workers in education, filed a lawsuit against DeSantis, Corcoran, the Florida Department of Education, the Florida State Board of Education and Miami-Dade County Mayor Carlos Gimenez in a bid "to safeguard the health and welfare of public school students, educators and the community at large" and "to stop the reckless and unsafe reopening of public school campuses as coronavirus infections surge statewide," the FEA confirmed on its website.
Newsweek has contacted the governor's office, the Florida Department of Education and the Florida Department of Health for comment.
The graphic below, provided by Statista, illustrates U.S. states with more than 100 COVID-19 cases per 100,000 people in the past week.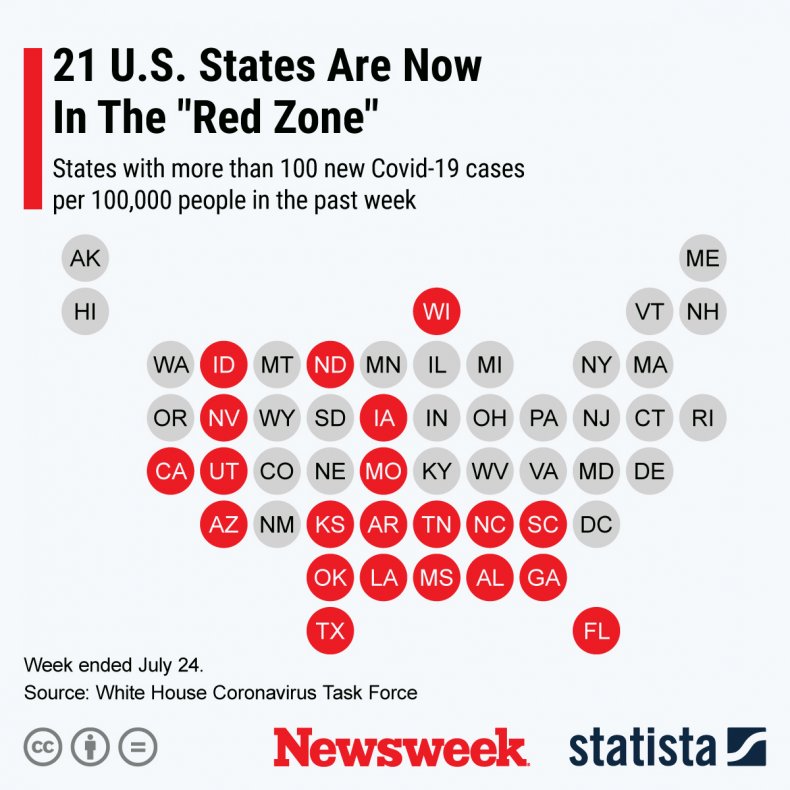 Florida has the second-highest number of confirmed cases in the country, after California. Daily new infections in the state have mostly increased from around May 22, days after restaurants and other businesses reopened from May 18.
Around mid-June, several reopened bars in Florida were closed again after patrons tested positive, about a week after nearly all Florida counties entered phase two of the state's reopening plan, which began on June 5.
The seven-day rolling average of daily new cases started to increase on a sharper incline from mid-June. It mostly increased until July 19, when it started to see a few dips, according to Worldometer.
Over 17 million people across the globe have been infected since the virus was first reported in Wuhan, China, including over 4.4 million in the U.S. More than 9.9 million globally have reportedly recovered from infection, while over 667,200 have died, as of Thursday, according to the latest figures from Johns Hopkins University.