Florida Protesters Demand Full Access As Naples Beaches Reopen With Restrictions
Demonstrators at Florida's Lowdermilk Park, a beachfront park in Naples, have protested the city council's decision to reopen the city's beaches with restrictions following the novel coronavirus outbreak.
Speaking to Newsweek, Lieutenant Bryan McGinn of the Naples Police Department said: "The 10-15 protesters were contesting the beach closure and demonstrating their belief that the beaches within the City of Naples should be reopened with no restrictions set in place for usage."
The beaches were first reopened earlier this month before being abruptly closed on May 10 due to visitors' "non-compliance with City regulations," Naples City Council said on its website.
The beaches were overcrowded, with visitors closely packed together and ignoring social distancing guidelines. A member of the council, Gary Price, told the Naples Daily News: "I went to the beach. It was packed. People were parking everywhere, blocks away."
Following a council meeting on May 11, a decision to reopen the closed beaches from May 13 with restrictions was made.
Before the consensus was reached, however, on May 10 a group of demonstrators at the intersection of Fifth Avenue South and Gulf Shore Boulevard South protested the emergency closure of the city's beaches, McGinn told Newsweek.
"Prior to making their decision to reopen the beaches, [the] City Council heard a large amount of public comment from individuals expressing their beliefs that the beaches should be reopened.
"[The] City Council's decision was an effort to accommodate the usage of our beaches but also help assure our community remains safe during these unprecedented times."
The latest beach restrictions include reduced visitor hours on weekends and a ban on the use of selected items (such as chairs, tents, umbrellas and coolers) at certain hours, among other regulations.
"Every resident and visitor needs to be responsible to continue practicing social distancing, limit your groups to 10 or less, wash your hands frequently, and stay at home as much as possible. The City will take action to restrict these public facilities again if the CDC [Centers for Disease Control and Prevention] guidelines are not followed," the city council website states.
Restrictions were also announced for several parks, such as the closures of playgrounds, fitness facilities and bathrooms at Seagate Park, Fleischmann Park, Cambier Park, Naples Landings, Anthony Park and River Park.
The City Dock area is "closed to casual strolling and public gatherings," the city council website states.
Florida began the first stage of a phased reopening last week, including the reopening of some parks and beaches. Most beaches in the state reopened last week, except for south Florida.
"Reopened beach areas allow visitors access to active recreation only. This includes walking, jogging, swimming and fishing. No sunbathing, chairs, canopies or coolers are allowed in beach areas at this time," the office of Florida Gov. Ron DeSantis said in a statement on May 1.
"Access to beach areas will have reduced daily hours that may vary locally along with reductions in visitor capacity to ensure social distancing."
On Friday, DeSantis also announced that hair and nail salons as well as barbershops could be reopened in every county except Miami-Dade and Broward, the state's worst-hit counties.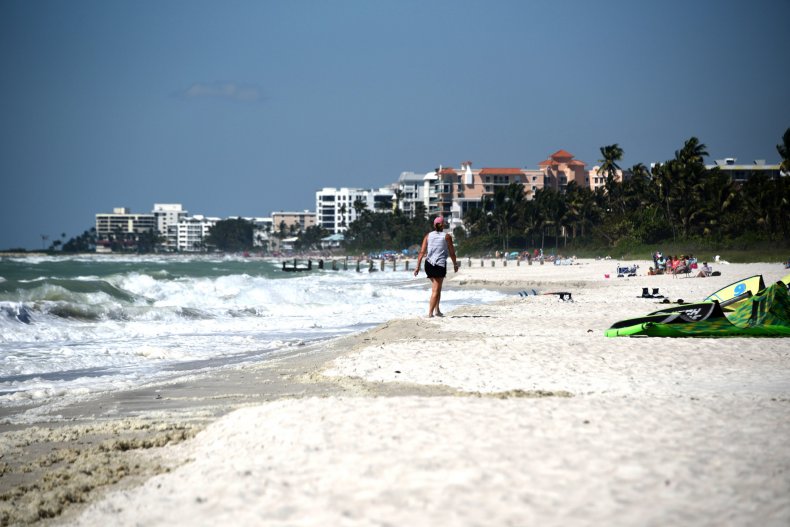 The reopened shops must operate by appointment only and have workers wear face masks. Work stations must be disinfected after each customer and patrons should be discouraged from waiting inside the shop.
Florida has reported at least 42,402 confirmed cases and 1,827 deaths to date, according to figures published by the Florida Department of Health.
The novel coronavirus, which was first reported in Wuhan, China, has infected more than 4.2 million people across the globe. Over 1.5 million have reportedly recovered from infection, while more than 293,100 have died, as of Wednesday, according to the latest figures from Johns Hopkins University.
The graphic below, provided by Statista, illustrates U.S. states with the most confirmed COVID-19 cases.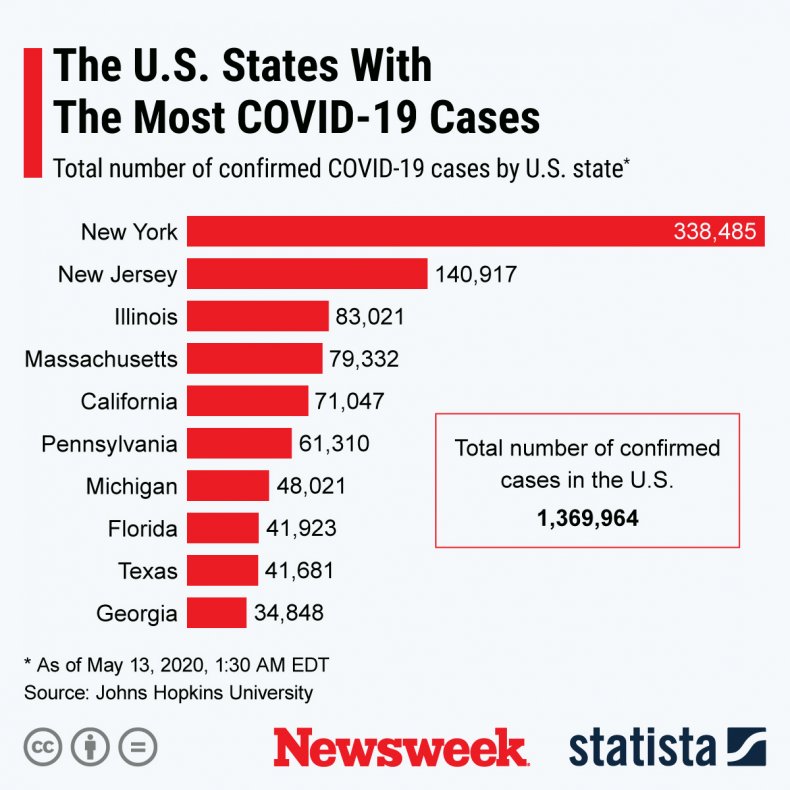 The graphic below, provided by Statista, illustrates the spread of the COVID-19 virus across the U.S.