The results of a statewide machine recount in Florida on Thursday all but confirmed former Republican Congressman Ron DeSantis will become the state's next governor. The same recount also led the secretary of state to order a manual recount of tens of thousands of ballots in the Senate race between GOP Governor Rick Scott and incumbent Democratic Senator Bill Nelson.
Florida law mandates recounts take place if vote margins are less than 0.5 percent. Scott and Nelson's margin was just 0.15 percent.
The latest election news that has continued to trickle out of Florida included a ruling by a federal judge late Thursday night that stated that, as governor, Scott had the legal authority to continue overseeing the results of his own election.
"Scott has toed the line between imprudent campaign-trail rhetoric and problematic state action," said U.S. District Court Judge Mark Walker in his ruling. "But he has not crossed the line."
The lawsuit against Scott alleged he was using his official government position to interfere in the election process and attempt to stop the counting of votes after the election and during the recount process. As a result, the suit argued, Scott should be forced to recuse himself from any involvement with Florida's elections.
Walker said Scott's press conference on the steps of the governor's mansion on November 8 had "troubling utterances," referring to Scott's claims that "unethical liberals" were trying to "steal" the election. Scott requested the Florida Department of Law Enforcement to investigate Democratic supervisors of elections for "rampant fraud," something the agency and the Florida Department of State told Newsweek it did not do because no credible, criminal allegations of fraud had been found. Scott's request was also just that, a request, and was not an official order.
Walker ruled that the comments, although made by a candidate who currently holds power over elections and law enforcement agencies, were not a constitutional violation.
"Though sometimes careening perilously close to a due process violation, Scott's most questionable conduct has occurred in his capacity as a candidate rather than as governor," Walker said in his Thursday night ruling. "While campaign-trail rhetoric is increasingly bombastic, imprudent, and not necessarily rooted in objective facts, there is a critical line between campaign rhetoric and that rhetoric transforming into state action that requires judicially imposed recusal."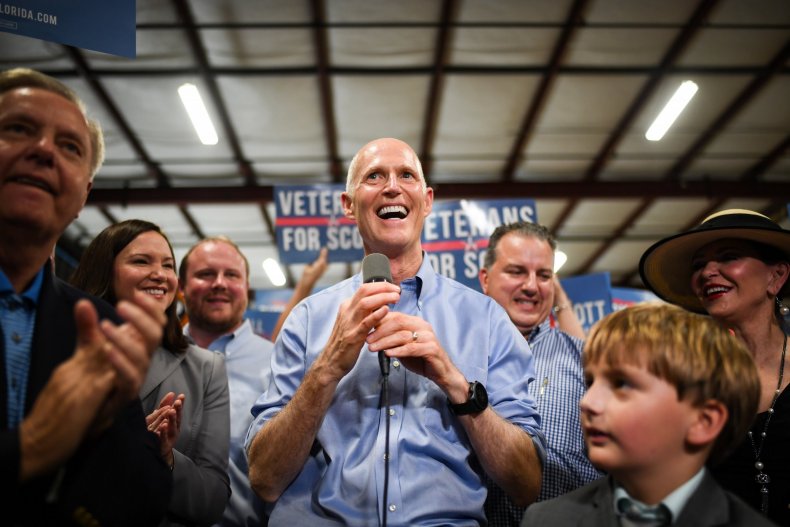 The lawsuit was originally brought by the League of Women Voters of Florida, Common Cause Florida and a voter in Broward County. The plaintiffs sought to force Scott to recuse himself from certifying the state's official election results pending the completion of any recounts, something Scott's legal counsel claimed he would do earlier this week. Scott recused himself in 2014 during his re-election bid.
The Scott campaign did not respond to Newsweek on Friday about whether the candidate planned to renege on his recusal promise considering Thursday night's ruling. The Scott campaign touted the ruling in a statement to its supporters.
Walker said that Scott, as a candidate, could appear on TV, make social media statements and even "make baseless remarks about counties where populations cast majorities of ballots for his opponent. What Scott cannot do," Walker added, "is undercut the count and mandatory recount of votes from his perch of public official."
Walker also ruled in Scott's favor on a separate case brought by Democrats that sought to challenge the state's current practices on how officials determine voter intent when manually reviewing ballots.
Recount Update
As of Friday afternoon, manual recounts throughout the Sunshine State's 67 counties appeared to be on track to be completed and turned into the state by noon on Sunday. No county's manual recount results will be known until that Sunday deadline. Official elections results would then be certified by the state Tuesday morning, which is the certification process that Judge Mark Walker ruled Scott was allowed to be involved in.
Thursday morning, Walker ruled that roughly 4,000 Florida voters whose mail-in or provisional ballots were rejected because of a signature mismatch be given two days to correct the issue. Scott lost an appeal to the ruling later that day. Voters have until Saturday at 5 p.m. to cure their ballots in order for them to count. It's unknown if and how the thousands of votes could impact the recount process.
The manual recount only involves counting undervotes and overvotes by hand in each county, not all of the state's 8.2 million ballots cast in the Senate race. An undervote is when a voter left options blank on a ballot while an overvote is when a voter filled in too many choices on a ballot, causing some ballots to be rejected by tabulation machines.
The vote margin between Scott and Nelson remained at just 0.15 percent after the machine recount, meaning every vote in the manual recount could help Nelson close the 12,603-vote gap. Nelson's attorney, Marc Elias, has been confident a manual recount will prove Nelson victorious. Broward County reported Friday that the number of undervotes far outweighed the number of overvotes, a bad sign for the Nelson team because voters likely did not vote for anyone in the Senate race.
Broward County reported that volunteers had finished the manual recount of votes in less than two hours, a surprising feat considering the county missed the Thursday deadline to turn in the results of the machine recount. Local elections officials said the machine recount had been completed before the 3 p.m. deadline on Thursday but that the upload process to the state's website took 17 minutes, causing the results to be submitted two minutes late. The state did not accept the results.