Florida Red Tide 2018 Map, Update: When Will Red Tide End?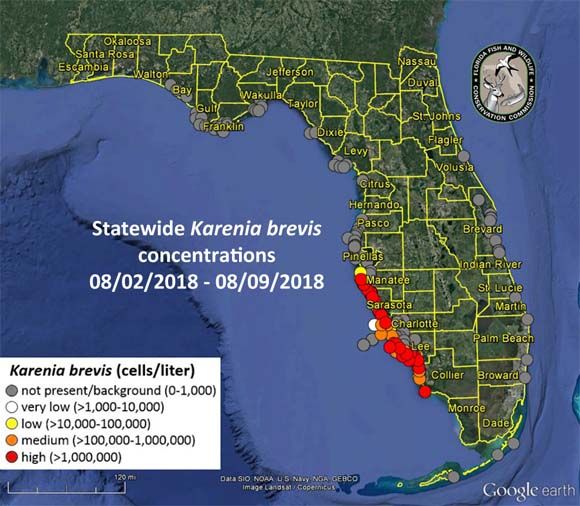 Florida's bloom of the red tide (karenia brevis) persists in the Southwest coastal region of the state, according to the latest report.
The Florida red tide map reveals that impact areas in Southwest Florida including Palm Beach, Martin, St. Lucie, Glades, Hendry, Lee and Okeechobee counties. Among the largest cities in those counties impacted by red tide include Sarasota, which has a suffering tourism business because people don't want to be outdoors because of the strong smell and cough the red tide causes.
The red tide is not expected to recede for months, according to University of South Florida scientists. It may be this coming winter before it pulls back when water temperatures cool significantly -- unless mother nature steps in with a hurricane, says one expert.
"Any weather system that significantly stirs up the water column and pushes water away from shore can help disperse the cells, potentially ending the bloom if they are not able to re-aggregate," Vincent Lovko, a staff scientist at Mote Marine Laboratory & Aquarium, told the Sarasota Herald Tribune.
The Florida Wildlife Commission (FWC) reports that red tide fish kills continue late this week.
"We continue to receive reports of fish kills in Southwest Florida," the FWC said. "Over the past week, reports were received for multiple locations…"
More importantly, perhaps, multiple Florida beach locations reported red tide respiratory irritations in individuals, according to the FWC, including Lovers Key State Park, South Marco Beach, Venice Beach, Lido Key, Siesta Key, Seagate Beach, Vanderbilt Beach and more. See the complete list here.
The bloom began in 2017. Scientists say it isn't expected to ease until the water temperature cools late this fall or winter. That means months more of the red tide and algae bloom could plague Southwest Florida, killing fish and sea turtles that wash ashore.
The latest testing by the Florida Fish and Wildlife Conservation Commission revealed a bloom that shows high counts of "1 million cells per liter and higher along the Southwest coast, from the north end of Sarasota County to Marco Island," reported the Fort Myers News-Press.
The FWC said in its report that fish kills and breathing issues in humans can occur when levels reach 10,000 cells per liter. The News-Press reported that in recent days the counts "were close to 2.5 million cells per liter at the Sanibel Lighthouse," according to the Sanibel-Captiva Conservation Foundation.
Initially, the bloom that began in October 2017 was mostly offshore, but it has moved closer to beaches in recent months, bringing both its smell, impact and political sensitivity closer to shore.
The toxic red tide has experienced a bigger bloom than normal this year, even though it is an annual occurrence. Compounding the issue is that inland, Florida has also suffered from an outbreak of cyanobacteria in Lake Okeechobee "that spilled into rivers and canals carried the toxic green sludge east to the Atlantic Ocean and west to the Gulf of Mexico.