Red Tide: Florida Scientists Test Machine to Fight Toxic Algae
Scientists may have developed a cure for the toxic red tide that has clogged waterways, dampened tourism and killed marine life in seven counties along the southwestern Florida coast.
A machine, called an Ozone Treatment System, created by researchers in Sarasota, may be able to clear the harmful algae that has ravaged the Sunshine State since October, according to a CBS News report released on Saturday.
Processing roughly 300 gallons of water per minute, the machine breaks down algae-infected water and injects it with ozone, a gas formed from oxygen by electrical discharges or ultraviolet light. Once the ozone is released, the machine pumps out newly cleaned water.
"This system gets rid of the red tide, gets rid of the toxins, gets rid of the excess organic matter that's decomposing," said Dr. Richard Pierce of the Mote Marine Laboratory where the machine was devsloped.
Scientists at the lab were previously using the machine to prevent red tide at their tanks in Sarasota County, but after a successful run of the system on a canal in Boca Grande, Florida for a week, they believe the Ozone Treatment System can be used in other affected areas within the state.
Testing in Boca Grande wrapped on Friday. Researchers claim lab results from samples taken should be released within the next week.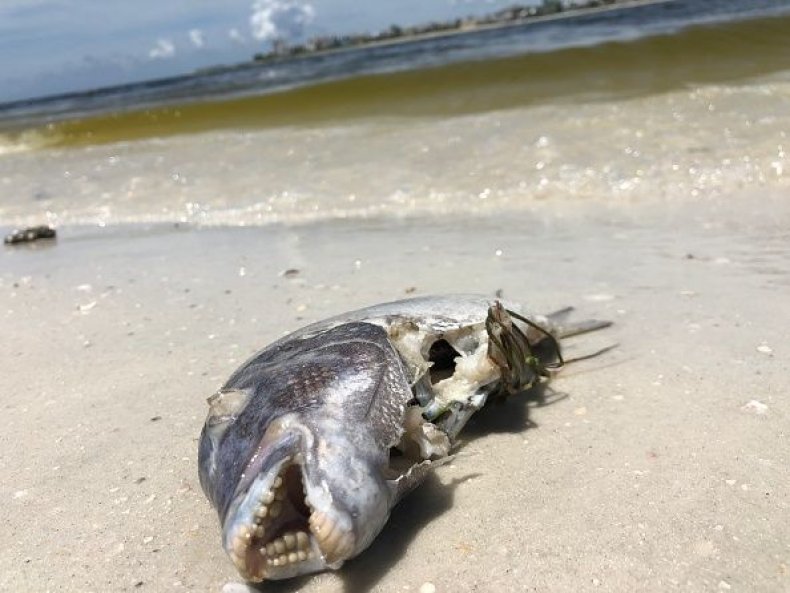 The machine arrives just a few days after Florida Governor Rick Scott issued a state of emergency for seven counties including Charlotte, Collier, Hillsborough, Lee, Manatee, Pinellas and Sarasota.
Counties will receive government funding and state resources to help with clean up. The Mote Marine Laboratory already received $100,000 for animal rescue while Florida's tourism department was issued $500,000 to help counties promote visitorship in affected counties.
More than 2.7 million pounds of dead fish and sea animals were pulled from local beaches so far in August, almost as much as the dead stone crab that was plucked from shores during the last red tide outbreak in southwest Florida and the Panhandle in 2015, according to the state's Department of Agriculture and Consumer Services.