Florida Red Tide Map Update: Toxic Algae Spreads to Atlantic Coast, Spotted in Palm Beach County
Officials shut down beaches in Palm Beach County, Florida, after confirming red-tide algae growing off its coast.
The Florida Fish and Wildlife Conservation Commission (FWC) said Monday that "low to medium concentrations" of red-tide samples were taken off the Palm Beach County coast on Sunday. The FWC notes that the concentrations found off the coast of Palm Beach County are lower than the high concentrations observed on the Gulf coast.
"Red tide has been documented in Florida since the 1840's and, as stated in red tide FAQ's available on the FWC website, can be transported around the Gulf of Mexico as coastal waters move with winds and currents," the FWC said in a statement. "Some red tides have even been carried by the Gulf Stream current into the Atlantic Ocean as far north as Delaware. Since the early 1950's, red tide has been documented on the east coast eight times."
The red tide, also known as K.brevis, consists of harmful algal blooms that occur when plants that live in fresh and seawater grow higher than average, according to the National Oceanic and Atmospheric Association (NOAA). The algae can produce harmful toxins that hurt oceanic wildlife and humans.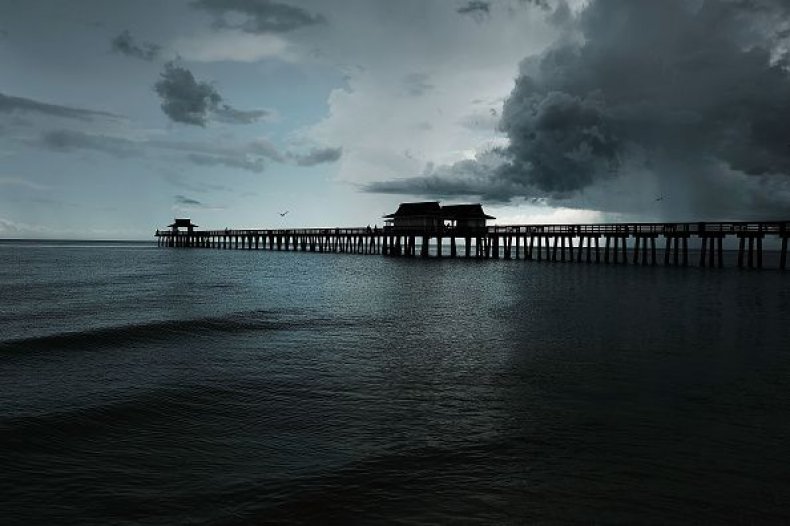 Officials told WPLG that beaches on the Palm Beach County coast will reopen to the public on Wednesday. Red tide algae, also known as K.brevis, was detected at medium concentrations in or offshore of Pinellas County, low to high concentrations offshore of Hillsborough County, and high concentrations in Manatee County as of Sunday in Southwest Florida, according to the FWC. The commission also found high concentrations of red tide algae in or offshore of Sarasota County, medium concentrations in Charlotte County, high concentrations in or offshore of Lee County, and low concentrations in Collier County.
The FWC also detected the harmful algae in Northwest Florida, with very low concentrations offshore of Walton County, low to medium concentrations in Bay County, medium concentrations in Gulf County, and very low concentrations in or offshore of Pasco County.
Florida Governor Rick Scott declared a state of emergency in August due to the red tide impact in the state, which has been affecting the area since October 2017, USA Todayreported. The declaration gave funding and resources to Sarasota, Pinellas, Hillsborough and Manatee counties for animal rescue and cleanup. Scott was booed out of a restaurant in Florida in September by protestors who were angry about the red tide blooms.