Florida Red Tide Update: County Collects 150 Tons of Dead Fish, Prepares for State of Emergency
Dead fish have begun washing up in canals outside residences in Florida's Manatee County as the red tide continues its toxic sweep across the state's southwest.
The county is expected to approve a state of emergency tomorrow that will allocate $500,000 for cleanup measures. The emergency declaration enables the county to pay staff overtime if necessary and permits county officials to perform emergency duties.
"We have a proposal for county commissioners to consider tomorrow, but the expectation is that yes, they will declare a local state of emergency," Manatee County Information Outreach Manager Nick Azzara told Newsweek. "Really it's a procedural step we take to ensure that we, the county, are in good position to apply for state or federal funding if it becomes available."
Azzara told Newsweek that as of Friday, August 17, the county had collected 150 tons of dead fish for disposal over the past two weeks. The 150 tons was gathered near the Anna Maria Island, an elongated islet slightly detached from mainland Florida.
The county has hired a contractor, whose employees are cleaning up fish that have washed up in canals lying adjacent to residential property.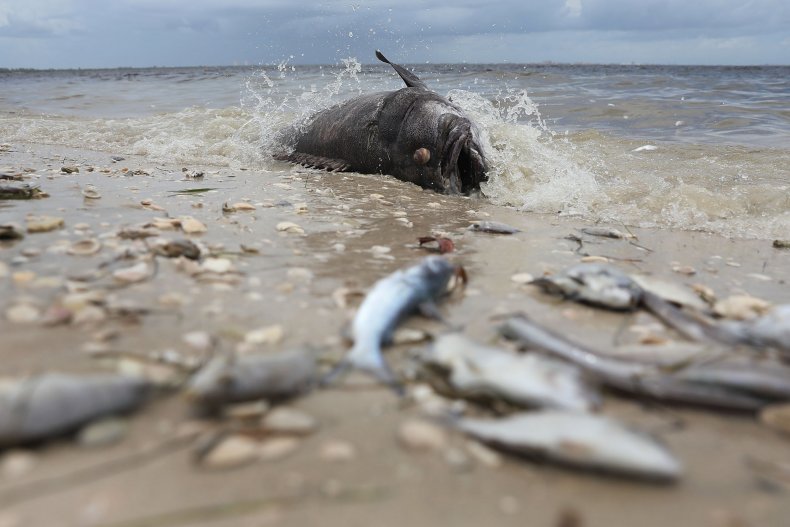 The information outreach manager said he thought that nearby areas, which are also affected by the red tide, were receiving similar quantities of fish kill, and that the amount of sea life washing up each day depended on the tides.
"Different days, we're getting different impacts. But we're not unusual either. The counties to the south of us have been experiencing a lot of that as well," he said.
But he said this was the worst red tide he could remember in Manatee County. "I've been in Manatee county since 2005," he told Newsweek. "This has probably been the most widespread outbreak in about 20 years from what I'm hearing from some of the locals. Some people talk about a really bad outbreak in the mid '90s.
The Washington Post reported that this year's red tide is the worst Florida has experienced since 2006.
Last week, Governor Rick Scott declared a state of emergency for seven Florida counties, including Manatee, due to red tide.
Red tide is caused by blooms of the Karenia brevis algae, which produce toxins that can kill sea life and birds by disrupting neurological processes. The algae has been causing respiratory issues in residents.
Hordes of dead sea turtles, manatees, eel and dolphins have landed on shores across the state, crippling the tourism industry and creating a discomforting smell for residents.
The algal blooms have also impacted local political discussion, with many in affected counties expressing discontent with the response levied by public officials.
"I wish someone would stand up and say this is how we're going to fix it," Rob Stevenson, a Republican from Englewood, told the Sarasota Herald-Tribune. "This is a number one issue for me, my friends and my family. We're energized with no one to really turn to."