Florida Red Tide Update, Map: Where Is Toxic Algae Still Covering Coastline?
Months after it appeared in Florida, widespread toxic red tide continues to threaten wildlife, killing thousands of fish and disrupting the Sunshine State's tourism.
The red tide, which comes from the organism Karenia brevis, extends from Pinellas County down the southwestern side of the state to Collier County, covering an area of about 120 miles of the coastline. Samples collected from Sarasota County, Charlotte County and Lee County all showed high concentrations of the algae—over one million cells per liter. However, in some areas of Sarasota County and Collier County, samples showed a decrease in concentration from the week prior.
The Karenia brevis bloom likely extends about 10 miles offshore and the Florida Fish and Wildlife Conservation Commission (FWC) credited the passage of Tropical Storm Gordon for transporting the cells to the northwest.
Samples from Bay County showed a very low concentration, while samples collected from the East Coast of Florida did not contain any Karenia brevis.
Karenia brevis is the species of algae that most commonly causes Florida's red tide—a harmful bloom with a higher-than-normal concentration of algae. Red tides have been documented as far back as the 1700s in the Gulf of Mexico and were recorded in Florida's Gulf Coast in the 1840s.
Lasting anywhere from a few weeks to longer than a year, a red tide can fluctuate and cause the water to turn a red or brown hue, although the water sometimes retains its normal color.
Pinellas, Manatee, Sarasota and Lee counties all reported that fish had been killed, while some people in Manatee, Sarasota and Lee counties experienced respiratory irritation. Karenia brevis produces toxins that can be harmful to both humans and animals. In animals, the toxins affect the central nervous system, causing them to die. Red tides can also cause serious illness in people who have severe or chronic respiratory conditions.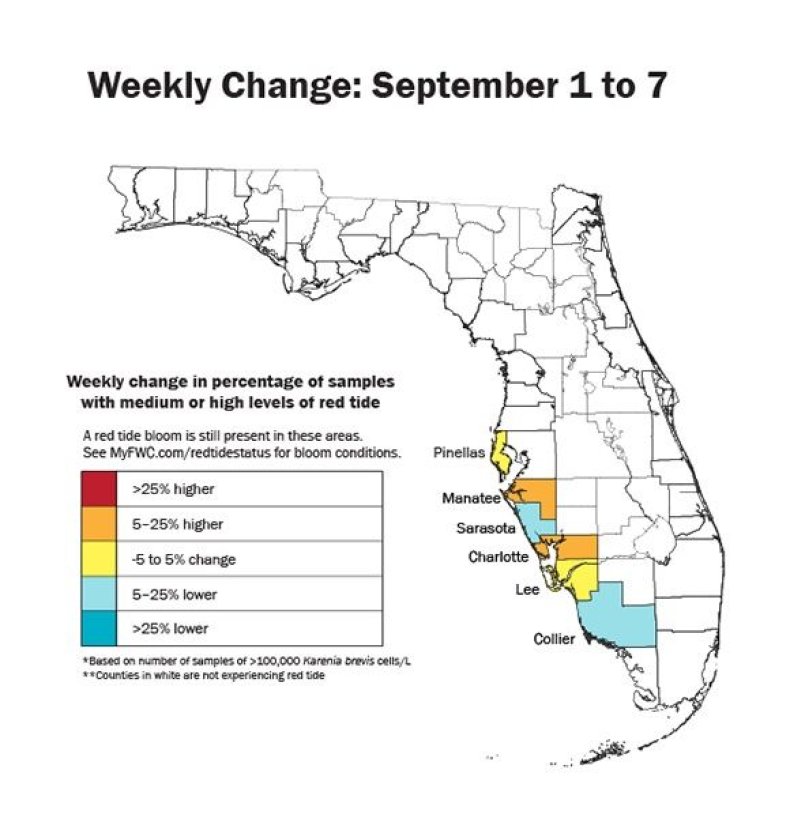 On Sunday, Pinellas County employees worked to clean up hundreds of thousands of fish that had been killed near the Tampa Bay area after coming in contact with the toxic algae. Boats were brought in to scoop up dead fish that were floating in the water offshore to be taken to a landfill.
The Florida red tide began affecting the state in October 2017. On August 13; Florida Governor Rick Scott declared a state of emergency, directing funding and resources to Sarasota, Pinellas, Hillsborough and Manatee counties to help with cleanup and animal rescue.
Cleanup crews included four inmates from Manatee County, who worked two eight hour days in August to shorten their sentence time.
"Low-risk inmates work inside and outside the jail," Manatee County Sheriff's Office Public Information Director Dave Bristow previously told Newsweek. "They are all inmates sentenced to county time, which means less than a year. They can get three days off the sentence for every 30 days of work, but we're not talking about a ton of time because their sentences run less than a year to begin with."
While researchers are working on finding a way to control Florida red tides, there is currently no means of controlling or killing red tide blooms.