Florida Rep. Says That Governor DeSantis Allowing Beaches to Re-Open Is Putting People's Health At Risk, Says 'That Decision Was Reckless'
Representative Donna Shalala of Florida strongly criticized the decision from her state's governor, Ron DeSantis, which allowed beaches to re-open as the coronavirus pandemic continues, calling the move "reckless."
During a Friday news conference, DeSantis, a Republican, gave the greenlight for local leaders in municipalities across Florida to reopen beaches as long as social distancing guidelines are followed. DeSantis previously drew criticism for acting slowly to close-down beaches throughout his state as the coronavirus pandemic grew nationwide, with images of crowded shorelines shared widely online and in the media.
"It's not only putting Floridians at risk, Jacksonville is right across the border from Georgia," Shalala, a Democrat who previously served as the Secretary of Health and Human Services under former President Bill Clinton, told CNN on Monday. Jacksonville was one of the first areas to re-open its beaches after DeSantis' Friday announcement.
"It tells you that one state can't make a set of decisions that are inconsistent with public health and with science, because it's going to affect another state," Shalala explained. "I think that decision was reckless," the representative added, pointing out that she was speaking as a congresswoman who represents beach areas in southern Florida.
"We've got to stick with the science," Shalala added. "But it shows you how undisciplined the leadership of this country has been because we do not have a consistent message and a consistent strategy working with the governors."
Although DeSantis urged beachgoers to follow social distancing guidelines, saying that the shoreline could be reopened for exercise, it appeared that many were quick to disregard the guidance. Videos from Jacksonville showed crowded beaches with groups of people entering the water.
Dr. Deborah Birx, coordinator of the White House Coronavirus Task Force, declined on Saturday to question the decision in Florida.
"If the county health directors believe that that's appropriate for their county, then I'm not going to second judge an individual's approach to this," Birx said during a press conference.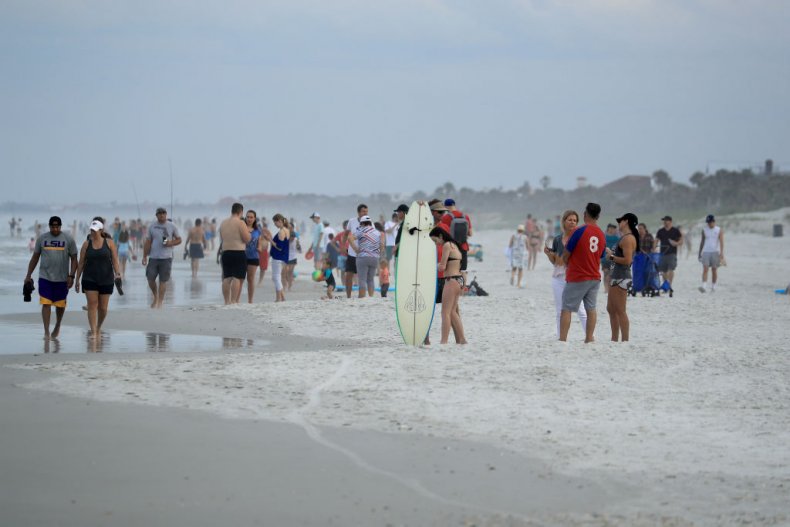 As of Monday afternoon, more than 26,000 people were confirmed to have COVID-19 in Florida, according to a tracker updated by Johns Hopkins University. Of those infected, 774 have already died.
Florida was slow to order residents to stay-at-home, despite having a surging number of cases. At the end of March, Florida was the only state in the nation with more than 5,000 confirmed cases of the virus not to have issued statewide lockdown. Several municipalities had already implemented their own executive orders, however. On April 1, DeSantis announced that he'd be signing a 30-day stay at home order.