Florida Reports More Than 8,500 Coronavirus Cases for Third Straight Day
Florida health officials confirmed another significant increase in cases of the novel coronavirus on Sunday, as the state continues to see an unprecedented spike in new infections.
The Florida Department of Health (DOH) reported 8,577 additional virus cases on Sunday, its third consecutive daily report to identify at least 8,500 new diagnoses. The latest figure fell below single-day totals reported by the DOH on Friday and Saturday, when roughly 8,800 and 9,500 positive tests were confirmed, respectively. Still, numbers included in all three reports exceeded Florida's previous record single-day increase, reported on Wednesday, by at least 3,100 cases.
Saturday's case report marked a new record increase in virus cases diagnosed in Florida on a single day, surpassing 10 previous daily records set since the start of June. Florida has confirmed more than 40,000 new virus cases over the past seven days, and almost 27,000 of them were confirmed over the past 72 hours.
At least 141,075 people have now tested positive for the respiratory illness across Florida since the pandemic began, according to DOH data. Of them, more than 3,400 people have died and 14,244 were hospitalized for their symptoms.
Newsweek reached out to the Florida DOH for comments regarding Sunday's additional cases, but did not receive a reply in time for publication.
Outside of Florida, New York is the only U.S. state where health officials identified upwards of 8,000 new infections during a 24-hour period. New York was previously regarded as the national outbreak's epicenter and confirmed daily increases of up to 12,200 throughout April. California's highest single-day jump in infections, reported last week, trails behind Florida's by more than 2,000 cases.
Similar to recent outbreak patterns seen in states like California, Texas and Arizona, virus cases began to spike in Florida at the beginning of the month, several weeks after businesses across the state started to reopen. In Florida, nearly all counties entered Phase 2 of Governor Ron DeSantis' economic recovery plan on June 5, allowing movie theaters, bars and other public gathering venues to resume operations with some limitations in place. Miami-Dade, Broward and Palm Beach counties, which reported the highest incidence of virus cases, have reopened according to independent timelines.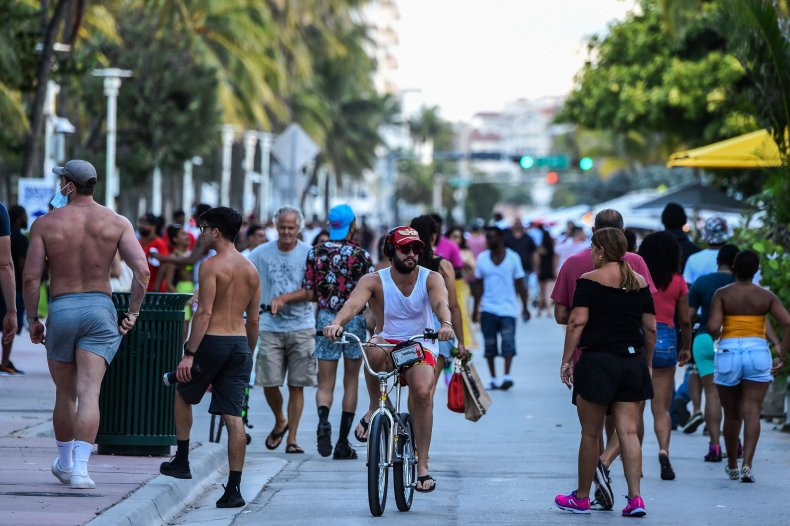 Although health authorities and government leaders have debated the influence of expanded testing procedures on rising case counts, Florida officials have recently taken steps to curb reopening in efforts to thwart virus transmission. Addressing Florida's climbing case count and subsequent rise in hospitalizations during a news conference on Thursday, DeSantis told reporters that the state would not transition into Phase 3 until further notice.
In Miami, which has diagnosed a large portion of Florida's total virus cases, Mayor Carlos A. Gimenez issued an executive order on Saturday closing beached in the surrounding county from July 3 through July 7.