Florida Reports Record High Coronavirus Test Positivity Rate
As Florida sees an upward trend in coronavirus cases, the state's Department of Health reported a record high COVID-19 test positivity rate.
Of the 48,538 COVID-19 tests received Monday, July 6, 16.27 percent came back positive. The percentage of positive coronavirus cases surpassed the previous high recorded on June 23, which hovered just under 16 percent.
The state reported 7,347 newly-confirmed cases on Tuesday, July 7, marking the fourteenth consecutive day Florida has recorded over 5,000 new daily cases. The department also reported 380 new hospitalizations and 63 new deaths from COVID-19.
Over the long weekend, the state broke the single-day record high with 11,458 new cases on July 3, the highest number of daily cases since the pandemic began. With more than 200,000 confirmed cases of coronavirus, the state now has more cases than the country of Germany, which has a population nearly four times the size of Florida's.
Newsweek reached out to Florida's Department of Health for comment but did not hear back in time before publication.
Miami-Dade, the county hit the hardest by the coronavirus pandemic, has started rolling back on reopening plans despite Florida Governor Ron DeSantis' persistence to keep businesses open.
DeSantis has said the COVID-19 situation in his state is not as dire as the one in New York back in March, when the outbreak peaked.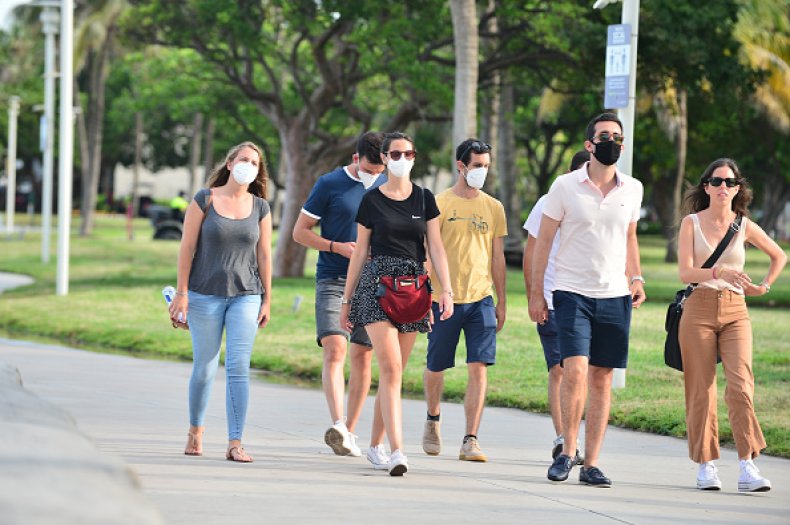 On Monday, Miami-Dade County Mayor Carlos Gimenez announced the closure of indoor dining at restaurants after the county reported an additional 1,981 new daily cases. Restaurants in Miami-Dade County will go back to operating outdoor dining, takeout and delivery as of Wednesday.
As long as gym-goers wear face masks when it is not possible to social distance, gyms in the county will remain open. The announcement comes after Gimenez initially said gyms would close as part of his order on restaurants.
Gimenez also closed the county's beaches over the long weekend to avoid drawing in Independence Day crowds, but they have been reopened as of Tuesday.
In June, Florida emerged as a new national hotspot of the outbreak, along with Texas, Arizona and California, as the state recorded a massive spike in cases.
However, DeSantis has continued to state he will not be issuing a statewide face mask order. The Centers for Disease Control and Prevention has recommended wearing face coverings as a way to curb the spread of COVID-19.
Florida Education Commissioner Richard Corcoran, who was appointed by DeSantis, also issued an emergency order on Monday that schools in Florida will reopen in a month's time. Last week, DeSantis vetoed a $29.4 million budget for a program assisting educators in facilitating online learning.
DeSantis is expected to provide an update on the state's coronavirus figures later Tuesday.