Both Republican Candidates Competing for Florida Congressional District Don't Live There
Both of the Republican U.S. congressional candidates vying to represent south Florida's 26th District apparently do not live in the area, voter registration records show.
Documents providing the addresses of the two GOP primary candidates reveal they have residences outside the 26th Congressional District, Florida Politics reported early Monday.
Restaurant chain owner Irina Vilariño, of Pinecrest, and Omar Blanco, head of the Miami-Dade Firefighters Local 1403, have registered addresses located in the neighboring 27th Congressional District. The campaign offices for the two Republican candidates have not publicly clarified or denied whether those homes are their permanent residences.
But Florida laws dictate that congressional candidates are not required to live inside the district in which they are running. They only have to live inside the state of Florida.
The two Republicans are looking to flip the 26th Congressional District seat, which is currently occupied by Democratic Representative Debbie Mucarsel-Powell. She was first elected in 2018 and is running unopposed in the Democratic primary on August 25, 2020. Her non-resident Republican opponents, Blanco and Vilariño, will face off in the GOP primary election, also set for August 25, 2020.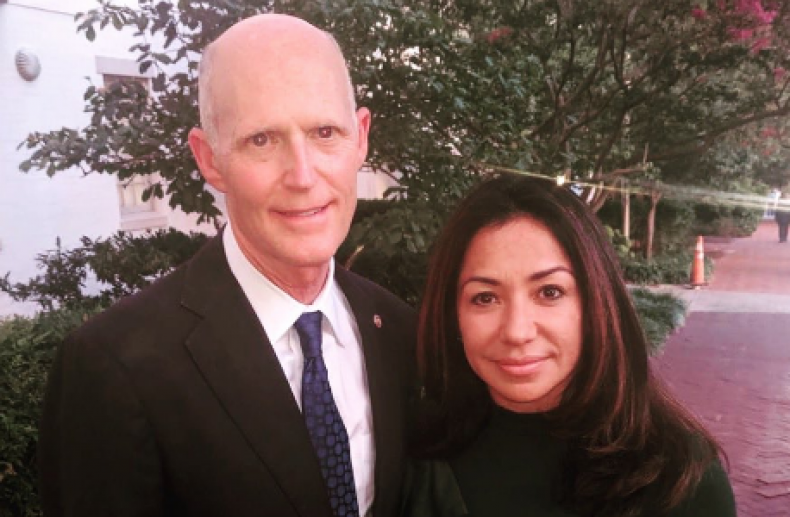 The 26th Congressional District includes Key West and portions of Miami-Dade County and was formed on Florida's southern tip as a result of 2010 Census data. The apparent homes of Blanco and Vilariño are in the 27th Congressional District, which was also created in 2013 as a result of the 2010 Census and is entirely within Miami-Dade County.
The race set to be between Mucarsel-Powell and either Blanco or Vilariño next year involves one Florida's four "pivot" counties, Monroe, which voted for Barack Obama in 2008 and 2012 but voted for Donald Trump in 2016.
The Republican primary campaign has already been fierce and mired in controversy. A Talking Points Memo report earlier this year tied Vilariño to several social media posts about the Obama birther claims and various other debunked right-wing conspiracy theories.
Vilariño has met with or sat on panels with several top Republicans, from Trump to Florida Senators Rick Scott and Marco Rubio. She accused Blanco of being a "Democratic plant" working for Mucarsel-Powell's campaign after he joined the race last month.
Despite the controversy, Vilariño picked up the official backing of the National Republican Congressional Committee, which named her to their "Young Guns: On the Radar" list.
In August, Blanco's father-in-law reportedly referred to Vilariño as a "Marilita," a term her campaign labeled "derogatory" and "offensive" after Blanco refused to apologize.