Florida Republican Defends No Lockdown as State Shatters Coronavirus Record With Over 10K New Cases
A U.S. senator from Florida defended Governor Ron DeSantis' repeated insistence that the state will not reverse its course in reopening the economy, even as it reported a record-breaking 10,000 additional coronavirus cases Thursday.
Republican Senator Rick Scott said during an interview that all levels of government should "stop mandating things" and "start just giving people good information" when it comes to coronavirus response.
He insisted that "people are smart," and that if officials provided good information, residents would be able to make informed decisions regarding risk.
"That's what I did when I had hurricanes," Scott said.
Newsweek contacted Scott's office for additional comment. A press representative for Scott referred to a Thursday op-ed that the senator wrote for Fox News' web site. "In the end, elected officials must trust the American people and value their right to make their own decisions and be responsible for their own outcomes," Scott said.
"If you listen to the press, they want our government to mandate face masks and shut down our economy again because of spiking coronavirus cases. This would be a huge mistake and could take us from a recession to a depression," he added.
DeSantis had told reporters Tuesday that Florida would not be "going back" in its plans for reopening. He has so far resisted imposing a statewide mask mandate and announced that he would not re-close businesses or impose other lockdown measures that many state leaders were forced to enact in March, when the pandemic first hit the U.S.
"I don't think that that really is what's driving it, people going to a business is not what's driving it," the governor said during the press conference Tuesday.
State health officials reported yet another record increase in new positive coronavirus cases Thursday. About 10,109 cases had been added, setting a new daily record and raising the state's total number of COVID-19 cases to 169,106.
According to data released by Florida's Division of Emergency Management, the state reported a 14.59 percent positive rate for testing on July 1. The number suggests that out of the 68,821 people who were tested for COVID-19 that day, nearly 15 percent of them had received positive results for the first time.
Florida's positive test rate has not dropped below 12 percent in a week. On June 25, the number of positive results soared 4 percent overnight to reach a total of 13.02 percent.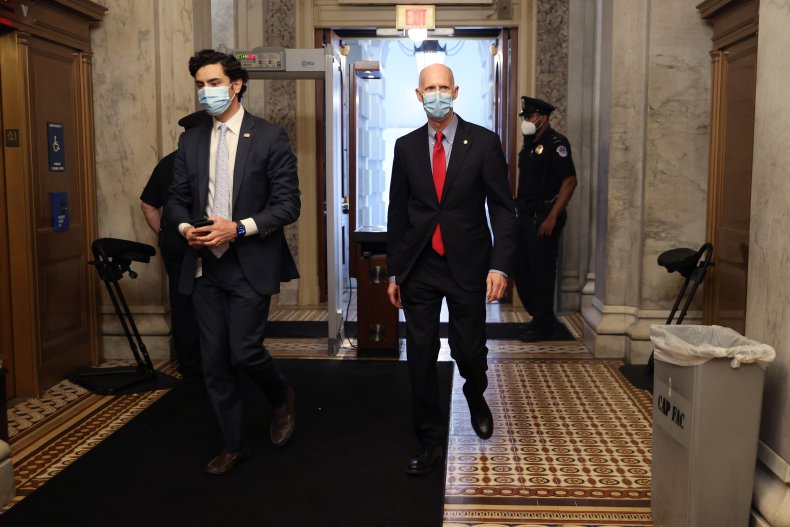 DeSantis's refusal to reverse course is a stark contrast from how several other states are handling their rising coronavirus case numbers.
Texas Governor Greg Abbott announced June 26 that all bars in the state close and restaurants once again reduce their indoor dining capacity in an effort to curb increasing infection rates.
Arizona Governor Doug Ducey announced Monday his plans to pause the state's reopening strategy, as that state continues to report record-breaking case numbers.
And in California, Governor Gavin Newsom ordered Wednesday that 19 counties shut down all indoor dining in bars and restaurants ahead of the July 4 weekend. The order will affect almost 75 percent of the state's population.