Florida Republican Defends Using Ethnic Slur As He Faces Calls To Resign
Santa Rosa County Commissioner Sam Parker was asked to resign in a public forum after he was shown in a video using the term "Jew down" to talk about haggling.
Parker was confronted about his comment, which was heard in a snippet of what appeared to be security camera footage, by gun store owner Chris Smith on Monday. He called the use of the term "absolutely ridiculous in 2023." He also accused the commissioner of asking a local small business to not charge him sales tax if he paid in cash.
The Florida commissioner's comment comes amid increased concerns in the U.S. over the rise of antisemitic sentiment, with 40 percent of Jewish adults across America saying they felt less secure in 2022 compared with the previous year, according to a recent survey by the American Jewish Community.
Of the 1,507 respondents to the survey, nearly 90 percent thought that rising antisemitism was a problem.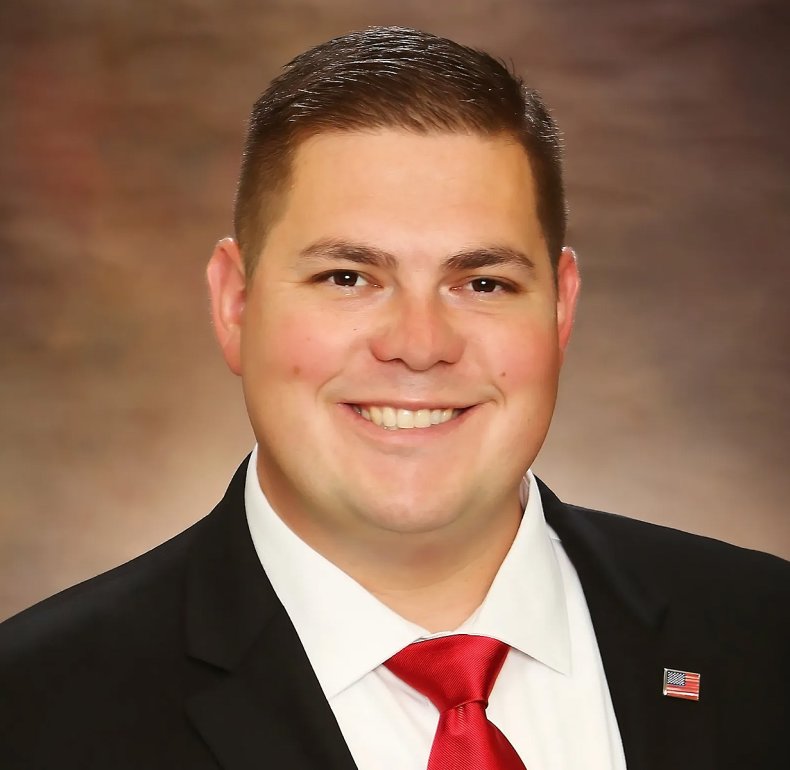 Data would appear to back up such fears: a recent report by the Anti-Defamation League revealed that more than 2,700 antisemitic incidents were reported in the U.S. in 2021—the highest number since the organization started tracking them in 1979.
"I'm asking you to resign, Sam," Smith said on Monday in a video of the public forum posted on Facebook. "Everybody up there saw that it was you doing that, I've heard of different situations where you've done things like this. It's pretty unethical. Not only that, you used an ethnic slur when you were up there talking. That's not how a county commissioner, this county, should act or do business, Sam. I'm asking you if you're going to resign."
Parker refused to apologize for his comment, saying that the term he used is a well-known adjective and that he can't be antisemitic because he has an Israeli flag in his office. He also rejected the accusation that he had asked for a sales tax break, accusing Smith of taking his words out of context and manipulating them against him.
Smith fired back saying that "the real problem" was that Parker thought he had done "nothing wrong." He said: "Your morals are very, very low. And you just used an ethnic slur joking around. You think the Jewish community is okay with what you said, Sam?"
Parker replied: "The fact that I walked in and said 'Hey, I'm going to have to Jew it down' is not an ethnic slur. This has nothing to do—I'm not referring to the Jewish community. I used that term as an adjective, as a descriptive word of bargaining them down…That is not an ethnic slur."
He then invited Smith to go to his office to see that, next to the American flag, he had hung an Israeli flag.
Parker had already been asked to resign in January 2021, when County Clerk of Court Donald C. Spencer shared a video claiming that the commissioner was responsible for mishandling waste franchise contracts.
Newsweek has contacted Sam Parker's team for comment.