Florida GOP Chair Celebrates Deportations With 'Faces of Criminal Illegals' Poster in Office
Florida Republican Party chairman Joe Gruters dismissed accusations of racism after video surfaced Tuesday showing him talking with a migrant child while leaning against a "Faces of Criminal Illegals" sign showing 35 people who have been deported.
Gruters, who represents Sarasota in the state senate and ran President Donald Trump's 2016 Florida campaign, touted the "Deported From Sarasota County" poster outside his office Tuesday. The Republican is behind Florida's anti-immigrant Senate Bill 168 which the American Civil Liberties Union (ACLU) warned would result in an "irreperable human cost" as it seeks to roll back any "sanctuary" protections from the federal government for undocumented migrants.
The "Faces of Criminal Illegals Deported from Sarasota County" sign Gruters placed outside his office door shows the mugshots of 35 undocumented migrants who were rounded up and removed from the U.S.
The sign does not indicate which countries the individuals were deported to nor the crime committed which led to their detaining by U.S. Immigration and Customs Enforcement (ICE). After a Miami New Times reporter labeled the sign "absurdly racist," Gruters pushed back on Twitter Tuesday.
"Why is that racist? Over 500 people from 35 countries have been detained from Sarasota. All are and should be equal under the law," Gruters replied. "You and I both know your fans aren't mad about dudes from Norway coming to Sarasota," the reporter, Jerry Iannelli, shot back.
Video recorded by immigration activists at Gruters' office Tuesday showed a 7-year-old child of immigrants pleading with the Republican lawmaker to pull back on his anti-immigration bill, which criminalizes sanctuary city policies. The boy can be heard reading a statement to the GOP senator in which he details his fears about his dad not coming home each day before finally asking Gruters, "Are you with me?"
"Seven year old Isaac shared his story with Senator @JoeGruters, who is sponsoring a hateful anti-immigrant bill that will separate immigrant families for minor things like driving without a license. Isaac asked him, 'Are you with me?' Unfortunately Senator Gruters is not," Florida immigration activist Thomas Kennedy, who was at Gruters' office, tweeted Tuesday.
In response to the legislature's potential passage of the bill, the ACLU issued a travel advisory earlier this month "urging immigrants and people of color to use extreme caution when traveling in Florida."
SB 168, alongside House Bill 527, is an anti-"sanctuary" bill that forces Florida towns to cooperate with federal immigration agencies despite no area of Florida having currently stated they intend to subvert federal law.
In an interview with Newsweek earlier this month, Gruters ridiculed the ACLU's travel advisory as overly dramatic and reiterated the intention of the anti-sanctuary legislation is simply to protect the rule of law.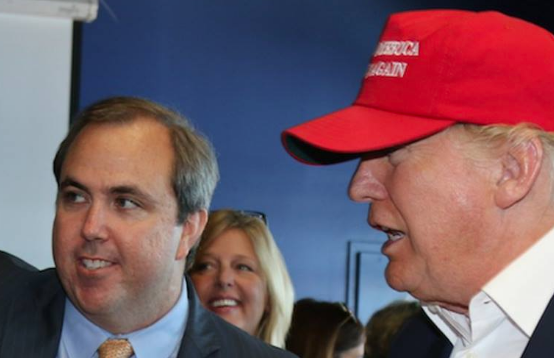 "You talk about fearmongering and upping the rhetoric even more?" Gruters told Newsweek. "that's one way to do it." He called the ACLU response itself "borderline race-baiting" and "misguided at best."
"This deals with criminal illegal aliens," he continued. "Unless you're breaking the law, you have no worries about this bill. This only deals with illegal aliens who are here, who are being processed by the judicial system. It's about protecting the rule of law."
Florida GOP Chair Celebrates Deportations With 'Faces of Criminal Illegals' Poster in Office | U.S.