Florida Republican Urges Governor to Follow Georgia's Mask Decision, Says State's 'Just Fine' as COVID Surges
Florida state Representative Anthony Sabatini urged the governor on Wednesday to follow Georgia's recent decision to prohibit local municipalities from mandating masks and suggested that Florida was doing "just fine" as cases of the coronavirus there continue to surge.
Speaking with CNN host Brianna Keilar, Sabatini, a Republican, was asked about states that have imposed mandatory mask mandates, such as the one recently issued by Alabama Governor Kay Ivey.
"When you look at the mandate versus voluntary mask wearing, a suggestion, where a government actually incentivizes and says, 'Hey, we'd like you to wear a mask, here are free masks, etc.,' I'm OK with that," Sabatini said. "If a government wants to incentivize and recommend masks, as they've done in many places, that's gonna get a lot of compliance, period."
He continued, "That's a very different role government's playing versus actually penalizing people with 60 days in jail. That's out of control. We don't need government putting people in jail in the middle of a big economic recession."
During the CNN interview, Sabatini also spoke about the rising number of virus cases in Florida and suggested that the state was doing fine.
"Well, Brianna, I think what you're doing is what a lot of folks in the media have done, is harped exclusively on one metric, namely the cases," Sabatini said. "The media is almost exclusively focused on this one number versus the two most important numbers, obviously: hospitalizations and fatalities, where in most parts of the state [it's] flatlined or gone down."
He added, "And so, if we focus on the two more relevant metrics, Florida's doing just fine."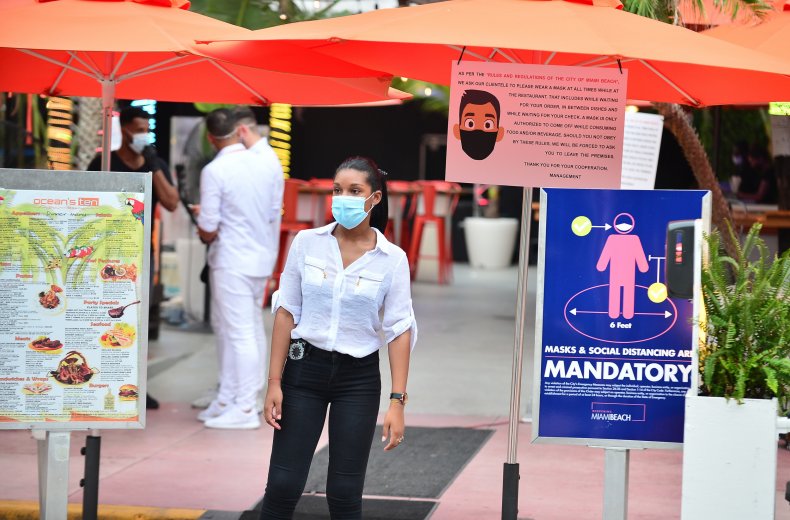 According to the Florida Department of Health, there were at least 13,837 newly reported cases on Wednesday, as well as 156 new deaths, bringing the state's total numbers to at least 315,775 confirmed cases and 4,677 deaths.
In addition to the increasing number of confirmed cases in Florida, the health department reported a new single-day increase of coronavirus-related hospitalizations on Thursday. According to the department's latest daily report, there were 491 new hospitalizations, topping a previous single-day high, 453, reported on Wednesday. The state has now reported at least 19,825 hospitalizations since the pandemic began.
As Florida continues to see a rise in confirmed cases, fatalities and hospitalizations, the state has been called the "epicenter" of the virus. But Sabatini said this is "a false assessment entirely."
"I don't even know what you mean by epicenter. The whole world is dealing with this issue right now. There's going to be a lot of cases in places of high populations," he said.
In an email to Newsweek, Sabatini wrote, "The governor should do the same as Georgia and stop the local government mafia from harassing working Floridians."
This story was updated to include a statement from Anthony Sabatini.