In a report released last week, University of Florida researchers predict the state will see over 30,000 daily COVID infections in February due to the Omicron variant.
Florida could actually see up to 150,000 COVID cases a day, including both symptomatic and asymptomatic infections, according to the report compiled by three UF researchers.
"The number of projected infections is much larger than the number of reported cases because many infections are not reported, especially if they are asymptomatic or mild," the report said.
UF researchers also predict that this wave of COVID will be less lethal than the Delta variant, WESH reported.
"We have seen this Omicron variant rapidly spreading like wildfire, especially as we head into the holiday season," said Miami-Dade County Mayor Daniella Levine Cava on Wednesday during a news conference on new measures to curb the spread of COVID-19 in the state's most populated county.
The state had a seven-day average of more than 1,400 cases at the start of December. However, since the Omicron variant has swept the nation, the seven-day average increased to over 8,600 cases as of Monday, according to the U.S. Centers for Disease Control and Prevention.
"Florida has had a 228% increase in cases.…At the beginning of the month, we saw just under 10,000 cases in an entire week, and over the past four days alone, we've seen 36,000 cases," said University of South Florida associate professor of epidemiology Dr. Jason Salemi, according to WESH.
Some of the efforts Levine Cava announced include mask requirements in all county buildings and new COVID testing sites due to high demand. She has also asked the federal government for more monoclonal antibody treatments to treat people who are sick from COVID. The nation has seen a shortage of the treatment.
Levine Cava added the best way to protect oneself against the Omicron variant is to get vaccinated.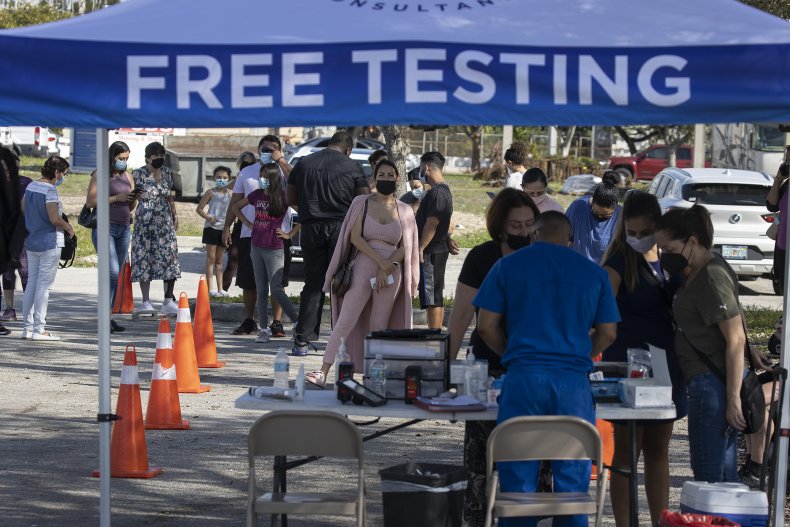 In response to the spread of the new variant, Memorial Healthcare System in Hollywood, Florida, said Wednesday it would limit most visitors, with exceptions made for end-of-life patients, labor and delivery, as well as pediatric and special needs patients.
Meanwhile, Floridians seeking COVID tests at drive-through sites were waiting in long lines, some for several hours. At Barnett Park in Orlando, the wait was up to two hours.
"The majority are coming for tests for travel purposes or because they have Christmas gatherings in a few days," Daniella Sullivan, an administrator with Orange County, Florida, Health Services, told the Orlando Sentinel.
The Associated Press contributed to this report.