Man Throws Banana at Pickup Truck, Driver Retaliates With Gunfire, Police Say
A man has been arrested in Florida in connection to an apparent road rage incident in which a suspect fired at a driver after he threw a banana at his truck.
Robert Kyle Lewis, 34, has been charged with shooting a deadly missile into/at an occupied vehicle and criminal mischief, following an incident which occurred on the 7500 block of Highway 19 in Pinellas Park on Tuesday morning.
The Pinellas Park Police Department said they were called to a report of a shooting on the southbound highway at around 8 a.m.
Police said that the shooting occurred after Lewis and Peter Sala Jr became involved in an argument while driving their vehicles along the highway.
Following the verbal altercation, Sala drove past Lewis and threw what was believed to be a piece of banana onto the side of the suspect's pickup truck.
In retaliation, Lewis allegedly pulled out his handgun and fired one round at the passing truck being driven by Sala.
The bullet shattered the right front passenger window of Sala's truck before becoming lodged into the front passenger dashboard area.
Sala suffered a small non-life-threatening laceration to his leg from a piece of glass fragment that struck him as a result of window shattering.
The Pinellas Park Police identified Lewis as a possible suspect in the shooting. Lewis agreed to meet with detectives on Wednesday morning and was subsequently charged with the felony offenses.
Lewis was booked into the Pinellas County Jail and currently has a $12,000
Bond.
The Pinellas Park Police Department have been contacted for further comment.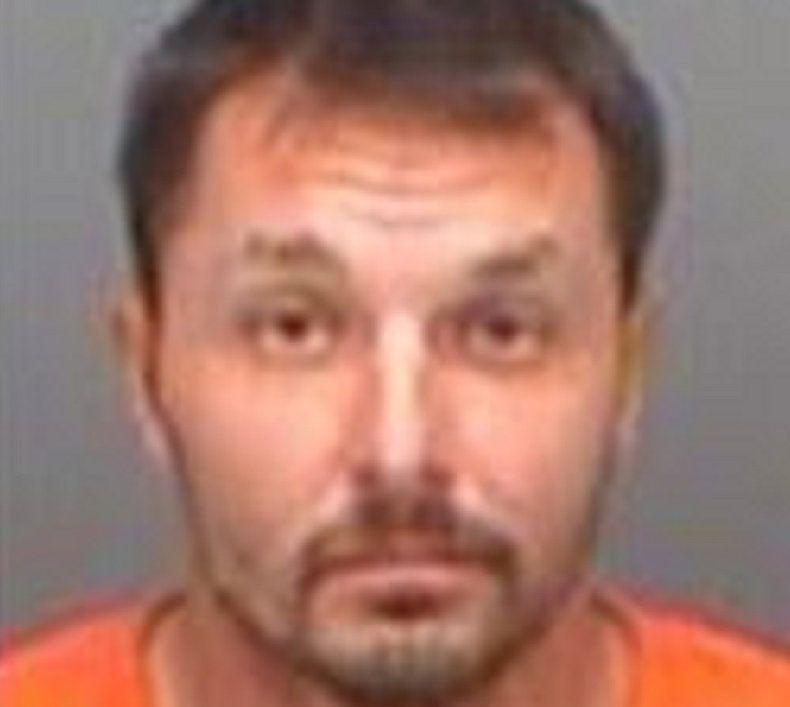 Last December, a Florida man was arrested after allegedly throwing golf clubs from a van at moving vehicles before attacking a state trooper.
Jonathan Edward Day, of North Port, was detained after Florida Highway Patrol troopers used a stun gun against him after he pulled over in his vehicle near the 265 milepost at Fowler Avenue.
Florida Highway Patrol first received reports that a man was hurling golf clubs on Interstate 75.
After being pulled over, Day exited his vehicle still clutching one club. The driver then punched the trooper and grabbed his radio as he tried to subdue him following a brief pursuit.
Day, 41, was charged with battery on a law enforcement officer, resisting arrest with violence, throwing a deadly missile from his vehicle, as well as possession of marijuana and drug paraphernalia.
The Florida Highway Patrol released dashcam footage of the suspect being arrested at the time, as well as pictures of his golf clubs.