Florida Roller Coaster Derails, Two Riders Thrown Off
Two people have fallen more than 30 feet to the ground after a roller coaster in Florida came off its track.
A total of six people were taken to hospital after the ride at the Daytona Beach Boardwalk derailed and hung from the track. The full extent of their injuries is not known at this time.
Two people who were "dangling" from the front car which was "completely off the tracks" were rescued by emergency services, while two others fell 34 feet to the ground, according to the Daytona Beach Fire Department.
Firefighters managed to rescue 10 "very frightened passengers" from the roller coaster, Sasha Staton, a Daytona Beach Fire Department spokeswoman, told the Daytona Beach News-Journal.
"They were faced with dangerous conditions as they worked as fast as possible to successfully extricate everyone safely," Staton said.
Images and video shared by the department show the rescue operation underway, including firefighetrs using a cherry picker and ladders to help people escape.
The ride, called the Sand Blaster, had opened in August 2013. At the time it was purchased from a closed amusement park in Delaware, the ride was already around 40 years old. Its tallest point is around 85 feet.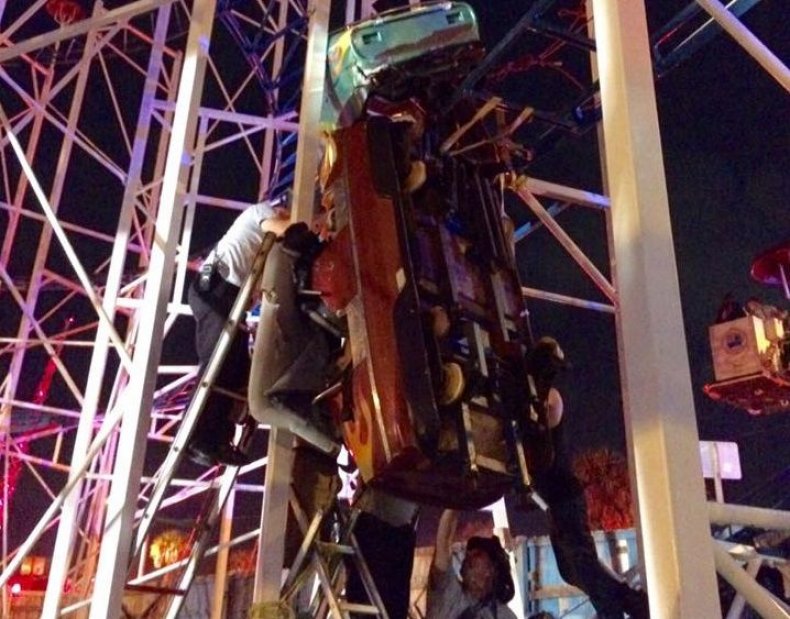 According to the Daytona Beach News Journal, there were more than a dozen problems with the ride following an inspection last year.
A report from last February revealed the ride had damaged handrails, a missing brace and four safety cables not properly secured among several other issues.
"I walk on that boardwalk every morning from 6:30 a.m. to 7:30 a.m.," Neil Harrington, former chairman of the South Atlantic Community Redevelopment Area Board, said at the time.
"It's in a total state of decline. They should take the rides out. They're rotting to the ground."
Trevor Gutierrez, a 13-year-old who is on vacation with his family from Atlanta, said he felt like the ride "wasn't checked well enough" when he rode it last year.
"I'm not riding on that thing again," he told Daytona Beach News Journal followingthe derailment.
An investigation is underway to determine what caused the derailment. Officials said they are unsure if the recent heavy rain and lightning in the area may have played a factor.