Florida Sanitation Workers Rescue Puppy Tossed Into Dumpster
Two sanitation workers who were training on a new, specialized truck in Southwest Florida discovered a puppy in a dumpster and saved the dog before it could have potentially been crushed.
Waste Management Inc driver Danny Cormier was training Ahriel Jones Sr. on the truck when they found the 6-month-old pit bull mix who had apparently been thrown into a dumpster while still inside its crate, according to the Miami Herald.
While emptying two dumpsters in Manatee County — just south of Tampa — Cormier noticed the puppy's head surface among the trash, and he told Jones to momentarily halt operation.
"I saw a little head pop up and stopped Ahriel. He asked what was wrong and I said there is a dog in here," Cormier said. And when Jones asked if the canine was dead, Cormier said, "No, it's very much alive."
Get your unlimited Newsweek trial >
Cormier said the pup was most likely locked in her crate when it was tossed away with the other trash, including furniture and other items in the dumpster, and that somehow the dog escaped the crate. He said the puppy was scared when they recovered her.
"The dog wasn't making a sound," Cormier said. "She was just shaking and very frightened, very scared."
The two drivers worked to make the crate functional again, but noted the dog didn't want to go back inside it. However, they secured the dog into a safe position near the busy intersection of Manatee River Road and Lakewood Ranch Boulevard until they waved down a local sheriff's deputy for help.
"I don't know how long she was in there. I don't think too long. She looked a little dehydrated, but otherwise looked to be in pretty good health," Cormier said. "I don't understand why people would do this. There are plenty of shelters who would have taken the dog or I'm sure someone on Facebook would have given her a home."
Get your unlimited Newsweek trial >
Jones, a six-year employee who was training behind the wheel, said a normal day usually involves just one person on the truck. He said businesses typically leave their gates open and overhead doors down on days their trash is picked up.
"Fortunately, that wasn't the case," Jones said. "It was unusual so someone had to get out and I just thank God that we saw the dog. We would have never known and I don't want to think about that."
The dog most likely would have been dumped into the truck, and then more and more trashed piled upon it. The truck occasionally packs the contents inside automatically, meaning either of those situations could have crushed the dog to death.
"I just thank God that didn't happen," Jones said. "Not on my watch. It makes me kind of (mad) someone would just throw away their dog with all of their belongings."
The dog was taken to a nearby grocery store, where it was given food and water.
The county's animal services said the dog now appears to be "healthy and active," and that animal abandonment is a crime.
The Manatee County Sheriff's Office is looking for who is responsible for leaving the dog inside the dumpster.
"Detectives are trying to determine how this 6 month-old female pit bull-mix ended up inside a crate in a dumpster behind the Speedway gas station at LWR Blvd. and SR 64," they tweeted. "If you know anything that could help us find the person responsible, please call us at 941-747-3011," they posted to Twitter.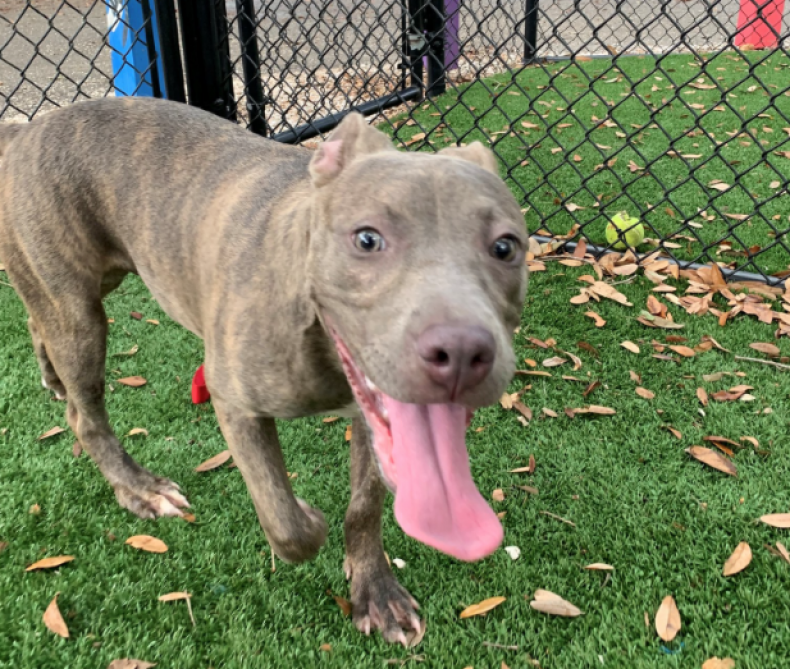 Florida Sanitation Workers Rescue Puppy Tossed Into Dumpster | News