The mother of Florida school shooting survivor David Hogg says her family has received death threats over their son's efforts to campaign for tighter gun control in the U.S.
Hogg, who is mourning the deaths of 17 of his classmates and others who were killed in the February 14 shooting in Parkland, Florida, has become a prominent voice in the gun control debate in the days following the tragedy.
But after making a number of media appearances, the 17-year-old was targeted by conspiracy theorists, who accused him of being a "crisis actor." Some claimed he had been "coached" ahead of TV interviews.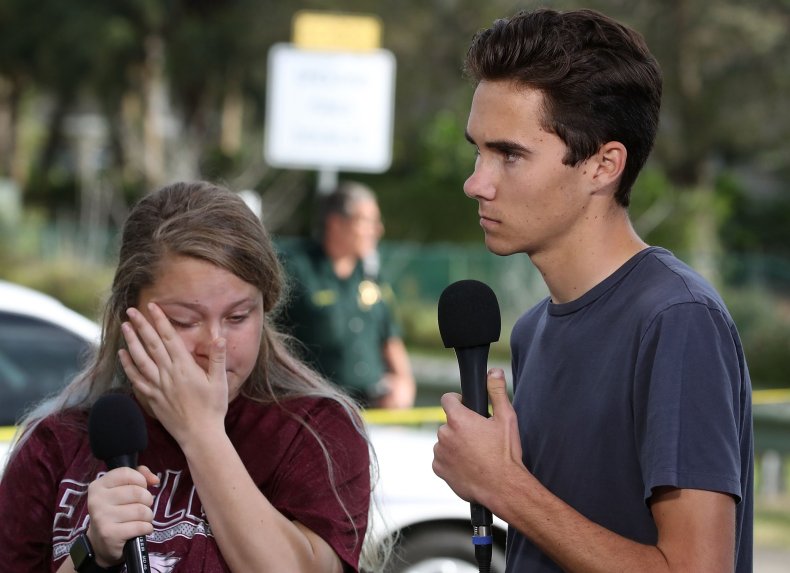 The accusations spread across the 4chan website, later making their way onto social media sites like YouTube and Facebook. But they gained national attention when Donald Trump Jr. "liked" a tweet specifically targeting Hogg.
Hogg addressed the accusations head-on, saying in an interview with CNN's Anderson Cooper, "I'm not a crisis actor.... I'm someone who had to witness this and live through this, and I continue to be having to do that."
The young activist's mother, who works as an elementary school teacher, told The Washington Post that her family has received multiple death threats. "I'm under so much stress," Rebecca Boldrick said. "I'm angry and exhausted. Angry, exhausted and extremely proud."
Boldrick's son, an aspiring broadcast journalist, is not the only survivor of the shooting who has become a target for online threats.
Another student, Cameron Kasky, 17, said he had felt forced to leave Facebook after receiving death threats from "NRA cultists."
Social media giants have recently been working to intervene in online attacks against the student survivors of the shooting at Marjory Stoneman Douglas High School.
Related: Twitter verifies accounts of Florida school shooting survivors in bid to shield students from online abuse
Twitter announced last week it was taking steps to shield survivors from harassment on its platform by "actively working on reports of targeted abuse" and by verifying a number of students' accounts, including Hogg's, in an effort to shut down those questioning their credibility.
"We are also using our anti-spam and anti-abuse tools to weed out malicious automation around these individuals and the topics they are raising," the company said.
Google, which owns YouTube, said in a statement Wednesday that it had removed a number of videos mentioning Hogg that violated company policy on harassment.
"We recognize the challenging issues presented by hoax videos and the pain they can cause the families who have suffered these incredibly tragic losses," the statement said.