Florida Sees 8,900 Coronavirus Cases in Single Day, Shattering Prior Record
Florida state health officials on Friday reported 8,942 new coronavirus cases, a single-day record that far exceeded a previous record the state set just two days ago.
Florida has recently emerged as one of nation's major hot spots for the virus. State health officials have been reporting thousands of new cases each day, with daily case counts steadily increasing this week from more than 3,000 to over 5,000.
The new cases added Friday bring the state's total number of coronavirus cases to 122,960. The number of Florida residents who have tested positive has remained above 7 percent every day of the past week. On Friday, that number jumped to 13.05 percent, state health officials said.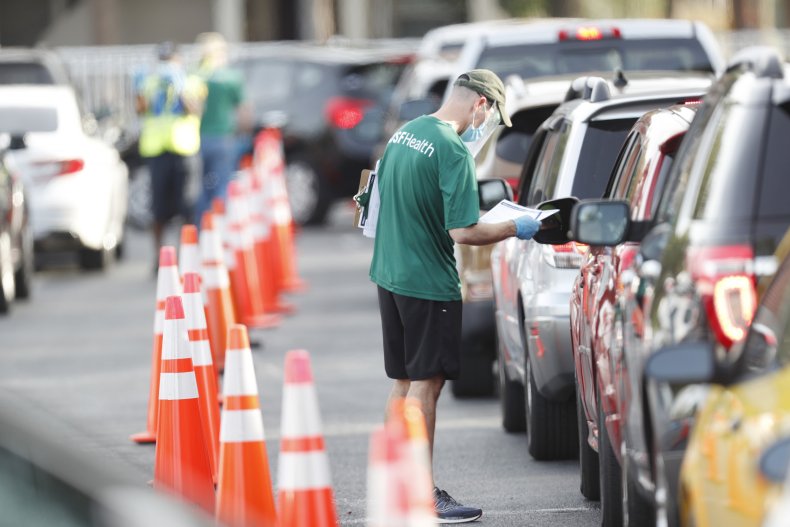 As new cases surge in states across the U.S., local leaders are reconsidering their reopening plans and, in some cases, taking steps toward reimposing restrictions put in place earlier this year to prevent further spread of the virus.
In Florida, one of the first states to reopen, Governor Ron DeSantis said Thursday he was in no rush to move the state into its next phase of reopening because of the rising case counts. The state began lifting lockdown restrictions on May 4, with bars, restaurants, movie theaters, bowling alleys and other places able to reopen at limited capacity in counties that weren't initially hit as hard by the virus.
Though the state's number of new cases began ticking upward in early June, reopening plans continued until last week, when some bars began closing again because of reports of cases within their establishments. Days later, several local medical facilities released data showing the number of available beds in their intensive care units was dropping, raising concerns about hospitals' abilities to care for the sudden influx of patients if case numbers continue to rise.
On Thursday, DeSantis indicated the state's reopening progress was threatened, as U.S. Centers for Disease Control and Prevention Director Robert Redfield identified Florida as one of the country's current hot spots.
"We never anticipated necessarily doing anything different in terms of the next phase at this point anyways, so we are where we are," DeSantis said during a Thursday news briefing.
Shortly after the Florida Department of Health released its latest coronavirus numbers on Friday, the Florida Department of Business and Professional Regulation, which oversees more than 1 million businesses statewide, tweeted it was temporarily suspending in-person alcohol consumption at bars throughout Florida. The decision was effective immediately, the organization said.
DeSantis' office did not respond to Newsweek's request for comment before publication.
Earlier Friday, Texas Governor Greg Abbott signed an executive order halting in-person service at bars and reducing in-person dining capacity at restaurants throughout the state. Like Florida, Texas has reported record single-day increases in new cases over the past few days and has seen a decline in ICU bed availability.
The decision to reverse course on reopening is a controversial one, as the country continues to weigh the economic benefits with the life-threatening risks of doing so. Though the number of unemployed Americans is the highest it's been since World War II, a majority of Americans polled last month said they were not yet ready to go out to restaurants or go shopping. According to another poll earlier this month, about half of the respondents said they believed the worst of the pandemic is still to come.
That concern appeared to be justified, as a number of densely populated states rushed to control outbreaks and the U.S. reported its highest single-day increase, more than 37,000 new cases, on Thursday.
More than 2.4 million cases have been confirmed throughout the country, according to data from Johns Hopkins University. During a media briefing Thursday, Redfield said it was possible the infection rate was actually 10 times higher than reported.
This story has been updated with additional information and background.