Florida Sees Major Spike in Coronavirus Cases Since Reopening, Over 8,000 in Last 7 Days
Florida health officials confirmed nearly 1,000 additional cases of the novel coronavirus on Monday, as the state continues to report some of its highest daily diagnosis numbers since the onset of the pandemic.
According to the Florida Department of Health (DOH), 966 people were confirmed positive for the virus statewide between Sunday and Monday.
Daily case reports shared to the DOH website show Florida's health authorities confirmed 8,074 diagnoses with the respiratory syndrome, and 252 resulting deaths, over the last seven days. At least 1,000 people have been reported positive every day since the DOH confirmed 617 new cases were reported on June 1, as reflected in its June 2 report. Additional cases reported daily during the past seven days were similar to those confirmed by DOH in mid-April. Florida initially saw its highest single-day diagnosis count to date on April 17, when DOH confirmed 1,419 new cases.
After a steady drop in diagnoses throughout the first three weeks of May, Florida's case counts started to trend upward. On June 4, the health department again confirmed 1,419 new cases identified statewide the previous day, up from 1,317 cases included in its June 3 report.
In comments to Newsweek on Monday, a representative from the Florida Department of Health said wider testing procedures contributed to higher numbers reflected in recent single-day case reports.
"The increase in the number of positive cases is a result of Florida's greatly expanded efforts in testing for COVID-19. The state continues to expand its testing capacity and accessibility, to ensure that anyone who needs a COVID-19 test, gets a test," the representative said, noting the state's case positivity ratio, which was about 3.9 percent on Sunday. During Florida's initial diagnosis peak in April, the ratio was about 10 percent, according to DOH's April 17 report.
"As more testing is done, there will be an increase of positive cases of COVID-19. However, it's important to note that while testing has increased, the overall positivity rate remains low," the DOH spokesperson continued.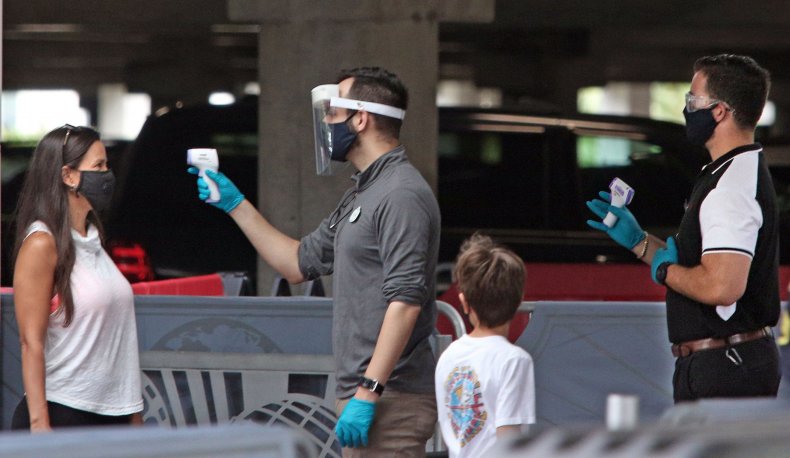 According to Florida's coronavirus dashboard, health officials have administered more than 1.2 million diagnostic tests for the virus as of Monday. Of those assessed, 64,904 people have tested positive so far, while another 1.1 million have tested negative.
Three days before DOH published Monday's latest case report, more than 60 Florida counties transition into Phase 2 of the state's reopening plan. As Governor Ron DeSantis outlined in an announcement earlier last week, those regions entering Phase 2 are permitted to reopen bars, movie theaters and amusement parks with added safety and social distancing procedures in place. Retail establishments located in those areas can operate at full capacity, while adhering to "responsible social distancing and sanitation protocols," DOH said in a statement with reopening recommendations on June 5.
Newsweek reached out to Governor DeSantis' office for comments but did not receive a reply in time for publication.