Florida Sees Same COVID Case Rate as California, Despite No Statewide Restrictions
Despite differing approaches in response to the COVID-19 pandemic, Florida and California have seen similar case rates of the virus.
In Florida, which has had no statewide mask mandates or restrictions on businesses, more than 1.9 million cases and over 32,000 deaths have been reported.
According to data from the Centers for Disease Control and Prevention (CDC), Florida has a COVID-19 case count of around 9,018 per 100,000 residents and around 150 deaths per 100,000 residents.
On the other hand, California, which has continue to impose much stricter restrictions on businesses and has a statewide mask mandate, the data shows similar case and death counts. According to the CDC data, California has around 8,918 COVID-19 cases and at least 139 deaths per 100,000 residents.
Overall, California has seen more than 3.6 million confirmed cases since the pandemic began as well as at least 56,573 deaths.
In a recent press release from the California Department of Health, Dee Dee Myers, senior adviser to Governor Newsom and director of the Governor's Office of Business and Economic Development wrote, "Throughout the pandemic, California's business community has been committed to protecting the health and safety of workers and customers—and that won't change now."
"With case rates and hospitalizations significantly lower, the arrival of three highly effective vaccines and targeted efforts aimed at vaccinating the most vulnerable communities, California can begin gradually and safely bringing back more activities, especially those that occur outdoors and where consistent masking is possible," said Dr. Mark Ghaly, secretary of the California Health and Human Services Agency. "Even with these changes, California retains some of the most robust public health protocols in the country."
Newsweek was directed to a press release issued by the California Department of Health after reaching out for comment.
Newsweek reached out to the state's department of health in Florida for comment but did not receive a response in time for publication.
While the two states have seen similar rates of the virus, their governors have approached the situation much differently. Both California and Florida have also seen more cases of the emerging COVID-19 variants than other states. California has reported at least 343 cases of the B.1.1.7 variant, which was first identified in the U.K. while Florida has reported at least 738. A majority of other states have not reported more than 100 cases of this variant.
In addition to Florida and California, South Dakota and Connecticut have also seen a similar situation with COVID-19 despite different responses by their respective governors.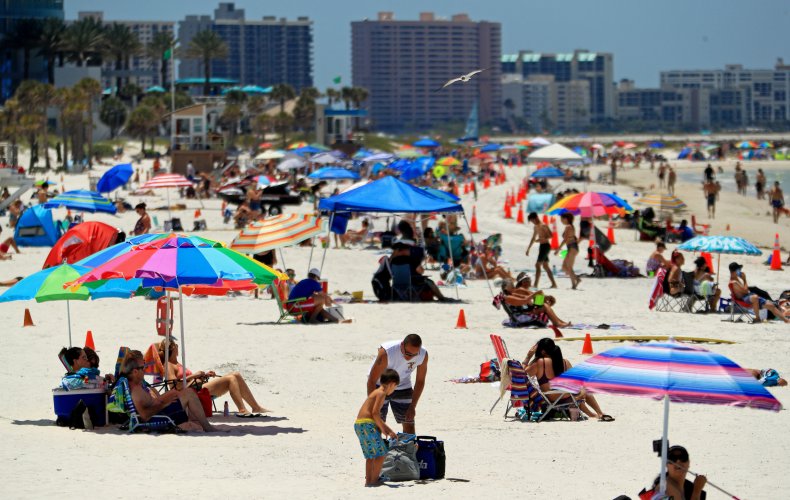 According to data from the CDC, South Dakota has seen around 215 COVID-19 deaths per 100,000 residents, while Connecticut has seen around 217. In the past seven days, South Dakota has reported just 11 new COVID-19 deaths, compared with 61 deaths reported in Connecticut.
South Dakota Governor Kristi Noem refused to impose a statewide mask mandate throughout the entire pandemic and allowed to state to remain open. In comparison, Connecticut has had a statewide mask mandate and restrictions on most businesses, but Governor Ned Lamont has recently started to roll back many of these restrictions.
The similar virus rates in Florida and California come as a number of states across the U.S. have started to ease their restrictions. Texas and Mississippi were two of the earliest states to remove their mask mandates, with several others taking the same move.
Amesh Adalja, a senior scholar at the Johns Hopkins Center for Health Security, told the Associated Press that one of the most important questions we ask ourselves about the pandemic will be, "What public health measures actually were the most impactful, and which ones had negligible effect or backfired by driving behavior underground?"
Updated July 2, 2020, 2:09 p.m. ET, to include a statement from a spokesperson for the Zuckerberg family office.
Updated March 15, 2021, 12:41 p.m. ET, to include a statement from the California Department of Health.