Florida Sees Second Straight Day Of Record Coronavirus Cases, Nearly 8,900 In A Week
The Florida Department of Health (DOH) reported 1,902 cases of COVID-19 on Friday, bringing the state's confirmed coronavirus cases to a total of 70,971.
The state has seen nearly 8,900 new cases this week with Friday's numbers reaching a record single-day high. In the last ten days, Florida has seen an increase of over 1,000 daily cases of coronavirus nine times. The outlier, June 8, saw 966 new cases.
The Florida DOH attributes the spike in numbers to the increased accessibility of testing sites. Six additional COVID-19 testing sites opened in South Florida this week through the Florida Division of Emergency Management's partnership with Home Depot and Publix.
"Currently, we have thirty drive-thru and walk-in test sites throughout the state, at no charge to the individual, in areas that range from urban to rural communities in an effort to increase accessibility," a spokesperson for the Florida DOH told Newsweek. "We fully anticipate that the success of this effort to seek out COVID positive individuals will be seen in higher numbers which, if treated early, can be beneficial not only in treating the patient but helping control the spread of the virus."
The department pointed to the availability of hospital beds and ventilators as a measure of Florida's response to the pandemic.
"This week we have seen the number of deaths decrease while the number of available ICU beds and ventilators remains steady. This could mean that individuals who are testing positive for COVID do not have underlying health issues, and/or we are getting better at treating this disease," the spokesperson added.
Florida has reported 2,877 coronavirus related deaths.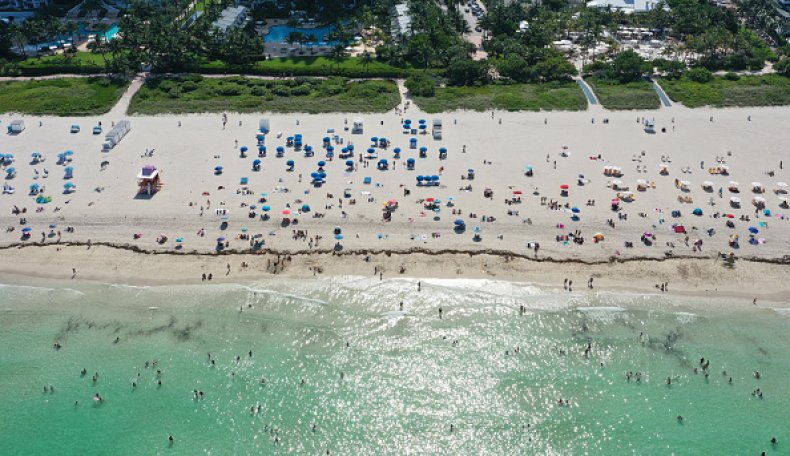 Florida officially began reopening last month under Governor Ron DeSantis' phased plan after the statewide stay-at-home order expired on May 4. Restaurants, bars, retailers, gyms, personal care services, places of worship, entertainment venues and beaches have all resumed operations.
On Thursday, DeSantis unveiled his plan to reopen the state's public schools at "full capacity" in the fall.
"Getting back on our feet in the school year, I think, is going to be really, really important for the well-being of our kids, but I also think it's important for a lot of parents, who have had to juggle an awful lot over these last couple of months," he said at a news conference.
Newsweek reached out to DeSantis for comment but did not hear back before publication.
A total of 14 states recorded a seven-day average high this week, according to the Washington Post. The other states are Alaska, Arizona, Arkansas, California, Kentucky, New Mexico, North Carolina, Mississippi, Oregon, South Dakota, Tennessee, Texas, and Utah.