Florida Sees Third Straight Day Of Over 1,000 New Coronavirus Cases Since Reopening Economy, Over 4,000 in Three Days
On Friday, Florida's Department of Health reported a third consecutive day of over 1,000 new coronavirus cases since the state began reopening.
According to the department, there were at least 1,305 new cases reported as of Friday, which brings Florida's total number to over 61,000. There were also at least 53 new deaths reported, increasing the state's total number to at least 2,660.
The number of cases reported on Friday marked the fifth day that the state saw new cases top 1,000 since implementing phase one of its reopening plan on May 18. In addition to the high numbers reported on June 3 and June 4, where the state set its highest single-day total since reopening with 1,419 cases, May 21 and May 29 both had over 1,200 cases reported.
According to the state's department of health, there have been at least 4,041 new cases in the past three days, with 1,317 on Wednesday; 1,419 on Thursday; and now 1,305 on Friday.
Across Florida, a majority of the cases have stemmed from Miami-Dade County, Palm Beach County and Broward County. According to the health department, there are currently at least 19,056 cases in Miami-Dade; 7,572 in Broward; and 6,859 in Palm Beach.
Despite the increase in cases over the past three days, Governor Ron DeSantis will continue to move the state to phase two of the state's reopening plan, which begins on June 12. In phase two, restaurants, bars, movie theaters, bowling alleys and concert venues will be permitted to reopen at 50 percent capacity, while retail stores and gyms will be allowed to operate at full capacity. Social distancing measures are still enforced for residents.
According to DeSantis' plan, personal service businesses--"including but not limited to tattoo parlors, acupuncture establishments, tanning salons and massage establishments"--are allowed to partially reopen.
"We have an opportunity to move forward in a safe, smart, step-by-step approach," DeSantis said during a recent press conference. He added that the state was ready to "inch into Phase 2."
While the state's second phase of reopening lifts many coronavirus restrictions, DeSantis added that Miami-Dade, Palm Beach and Broward counties are exempt from the phase. According to his executive order, these counties can move into phase two with a written request from their county mayors or administrators.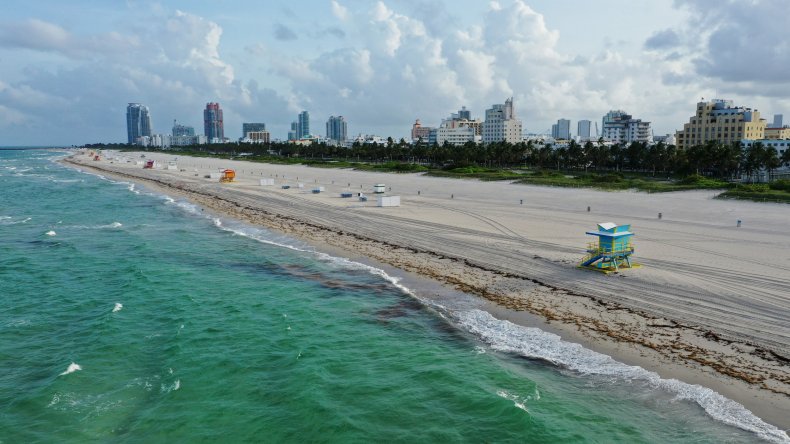 The new coronavirus, which causes the respiratory disease COVID-19, continues to spread across the U.S. According to a tracker provided by Johns Hopkins University, there are currently over 1.8 million cases in the U.S., as well as at least 108,496 deaths.
Newsweek reached out to the Florida Department of Health about the rise in cases, but did not receive a response in time for publication.
Correction, 06/12/20, 12:28 p.m.: The story has been corrected to reflect a reporting error in the data published by the Florida Department of Health on June 5. The story originally reported 1,495 cases as a single-day record for the state, however, that statistic represented the total of non-Florida residents diagnosed with COVID-19 in the state since the start of the pandemic. The correct number of new cases reported for June 5 is 1,305, which is not a single-day high for the state. The headline, all statistics where the 1,495 figure were referenced, and the exact three-day total of COVID-19 cases have been updated.