A showdown between the Biden administration and Governor Ron DeSantis is looming in Florida as state lawmakers return to Tallahassee to consider bucking the president's COVID-19 vaccine requirements for businesses.
At a special legislative session this week, lawmakers will take up bills intended to buck oversight from the federal Occupational Safety and Health Administration (OSHA) and instead place such safety regulations under state control.
DeSantis said Tuesday that he believes withdrawing from OSHA is an "appropriate response," adding that the Biden administration is being "heavy-handed" with its new vaccine rules.
"The most important thing, though, in this special session is to make sure people don't lose their jobs over these shots," the Republican governor said, according to Florida Politics. "We have firefighters, cops, people that work in all kinds of industries for private businesses that have been working this entire time."
OSHA is requiring millions of private sector workers to be vaccinated against the coronavirus by January 4 or submit to regular testing. The rules, which apply to companies with 100 employees or more, are expected to affect more than 80 million workers.
Florida wouldn't be the only state to separate from OSHA (22 other states have done it), but the process of creating a similar state-run agency normally takes years and requires approval from the federal government.
The legislation being considered by Florida lawmakers would direct DeSantis to develop a plan for the state to take control of worker safety and health matters. The governor would be required to report back to state lawmakers by January 17 and would have $1 million to create the proposal.
States that have their own federally approved workplace safety agencies, such as California, have been given an additional month to adopt vaccine rules similar to or tougher than those imposed by the Biden administration.
DeSantis also said Tuesday that the measures being considered during the special session don't just apply to OSHA.
"It will also say if a private corporation is trying to do this on their own, hold on a minute, you know, we don't want people to be discriminated against on the basis of that," he said. "So if we are able to get that done, then that will be a good thing."
Florida lawmakers will take up measures that would require private employers to make additional accommodations for employees who do not want to be vaccinated, as well as create penalties up to $50,000 for companies that fire employees for noncompliance if the employee successfully files a complaint.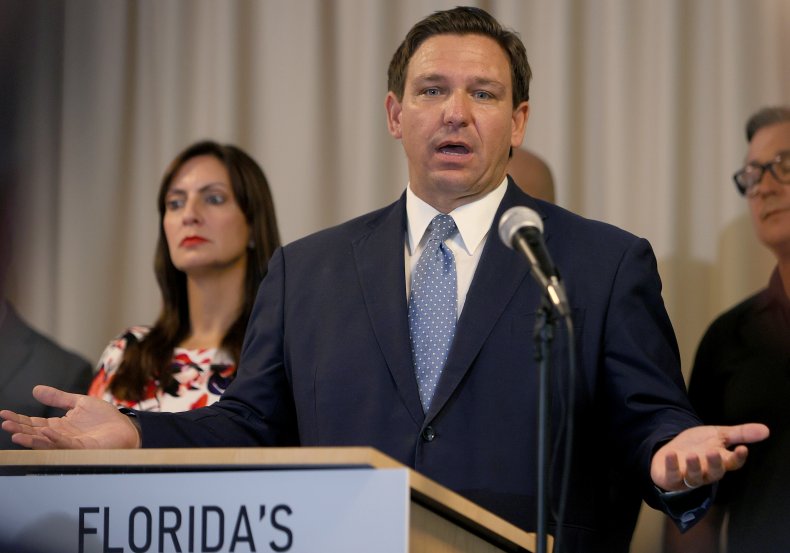 Newsweek reached out to the White House for comment on Florida's special session but didn't receive a response before publication.
Dozens of Republican governors and other state officials have sued the Biden administration over the vaccine rules, maintaining that they do not have the authority to put such mandates in place.
The federal government has responded by saying it has the ability to implement the emergency temporary standard because of the "grave" danger posed to the public by the coronavirus.
Getting rid of the standard, the Biden administration said, will "endanger many thousands of people."