Florida Shelter Fears Rise in Abandoned Animals After Hurricane Ian
As people begin to pick up the pieces in the aftermath of Hurricane Ian, animal shelters and welfare groups have shared their concerns about a potential rapid intake of abandoned or lost creatures.
Data collected by the American Society of the Prevention of Cruelty to Animals (ASPCA) in 2021 found that one in five pet owners had evacuated their homes due to a disaster or emergency, and nearly half had left at least one pet at home when they were evacuated.
Some 83 percent of pet owners in the U.S. live in a community that faces natural disasters. While 91 percent said they plan to bring their pets with them during an evacuation, only 46 percent reported having a disaster preparedness plan in place.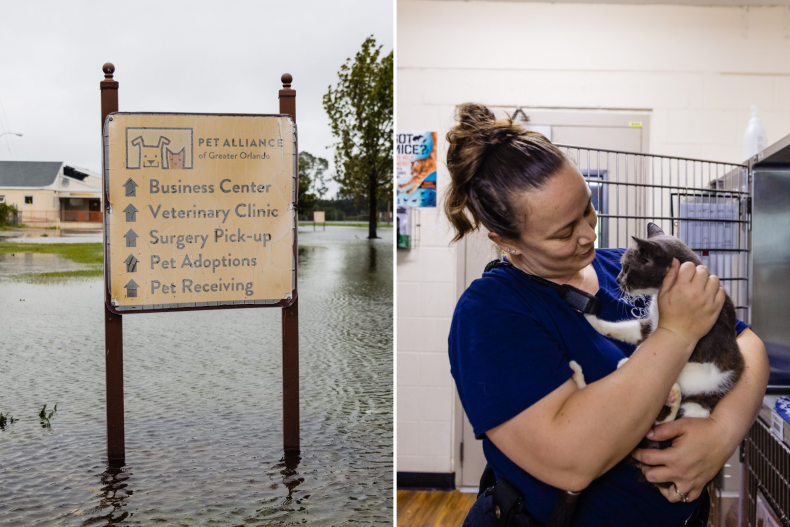 Last week, as Floridians prepared for the landfall of Hurricane Ian, staff at Orange County Animal Sevices (OCAS) shared a video on TikTok detailing their preparations for animal care as the weather drew closer.
Manager Diane Summers told Newsweek: "We had nine staff members onsite at Orange County Animal Services throughout Hurricane Ian. In preparation for the storm, our team secured a backup generator, brought in loose pieces of equipment throughout the facility, and ensured we had adequate pet food on hand."
When flooding became a concern, the team placed dozens of sandbags throughout the shelter. Thankfully, no water breached the shelter—although it did gather outside in the parking lot.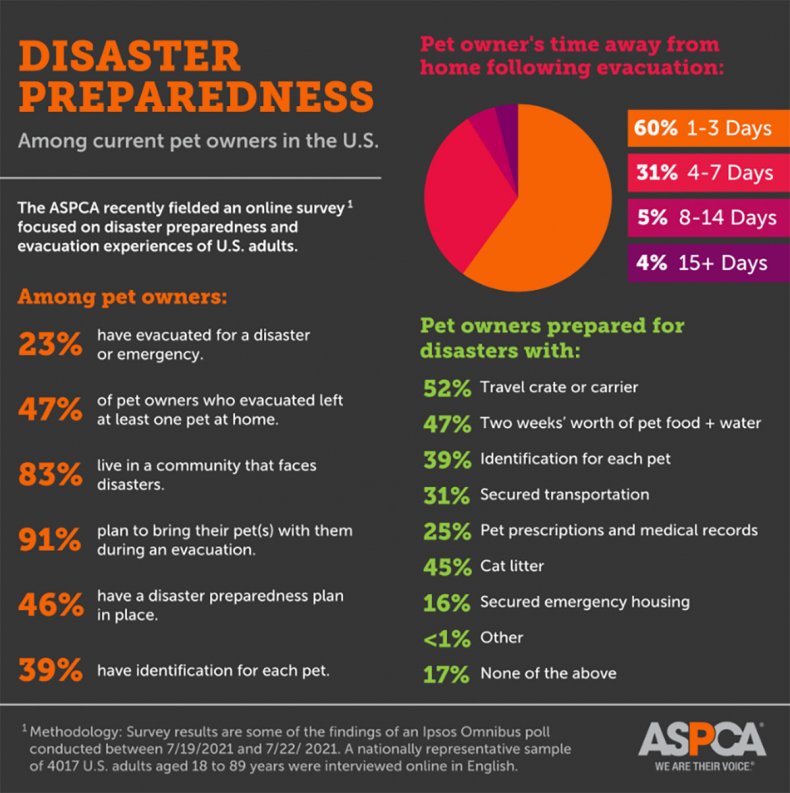 "We're incredibly thankful to Orange County Government and our leadership for aiding us in these preparation methods and assisting us in every step throughout the event," said Summers.
As the Category 4 storm battered homes, many local heroes sprung into action to help people and animals. Two Tampa police officers were praised for saving a lost kitten—aptly named Stormie—after he was spotted wandering the streets.
Meanwhile, a news reporter was slammed online for not rescuing a cat that was surrounded by rushing waters as the storm hit.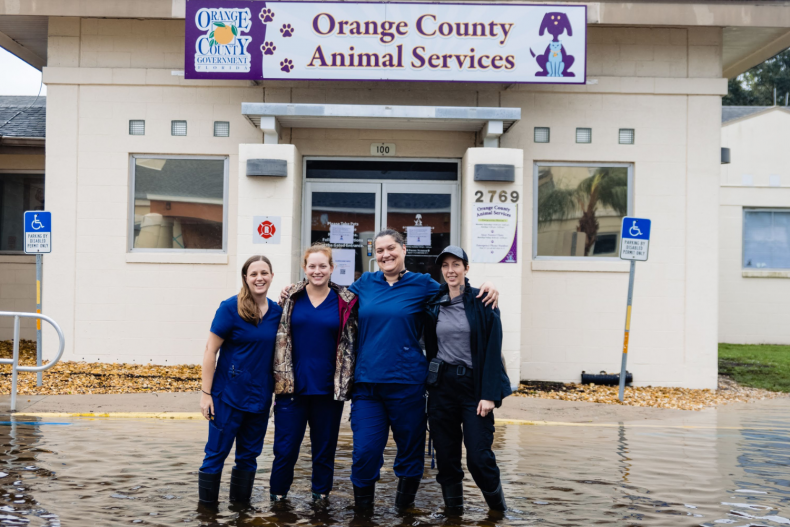 As millions are left with the mammoth task of cleaning up the aftermath, Summers shared her concerns for animals following the hurricane: "It is common to see an increase in pets [surrendered to shelters] following a major storm. Some owners, unfortunately, are impacted to the point they need to surrender their pets, if they are displaced as a result of the storm," she explained.
"We typically see an increase in stray pets," explained Summers: "It's not uncommon for animals to become lost from their families."
As hurricane relief efforts continue and debate soars over the delivery of government support, Summers says that America's animals also need support.
"We need all hands on deck following a storm of this magnitude," said the shelter manager: "For people who were fortunate to not be negatively impacted by the storm, we ask that they consider adopting or fostering. We will need to move as many pets as possible from the shelter and into stable, loving homes."