Controversial advice by a Florida's sheriff encouraging Santa Rosa County's residents to shoot home invaders in case of break-ins has divided the internet, their reactions split between shock and support.
Santa Rosa County Sheriff Bob Johnson was talking to reporters last week after arresting Brandon J. Harris, 32, who had allegedly broken into several homes in Pace before being stopped by officers, according to the Pensacola Daily News.
Harris, the newspaper reports, was arrested on April 21 after a homeowner fired multiple gunshots at the alleged home invader.
Harris has been charged with attempted burglary with assault, resisting arrest, criminal mischief, attempted larceny, and several other charges, according to Fox News.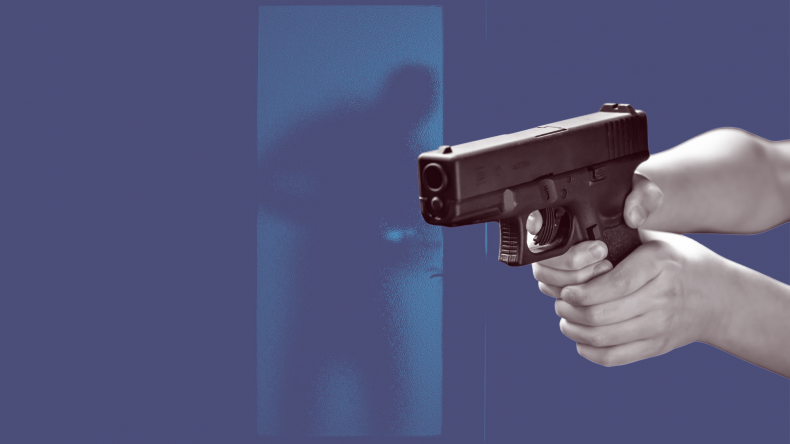 In a press conference on Thursday April 21 following the commotion of the night before, Sheriff Johnson praised the action of the homeowner who shot the alleged home invader, narrating the scene leading to the arrest.
"Probably 20 deputies get there, the dogs are out, and he [Harris] is jumping fences and breaking into houses as he goes," he said, as reported by the Pensacola Daily News.
"One of the homeowners, he was breaking into their house, and they shot at him. So he continues to run, we finally corner him in a house that he broke into on Tom Sawyer [Road] and we cornered him in a bedroom."
According to the newspaper, nobody was injured as a result of the homeowner shooting. At time of writing, police did not know exactly which homeowner took the shots, Sheriff Johnson said.
"I guess they think they did something wrong, which they did not," said Sheriff Johnson during the press conference, inviting that person to come forward.
"If someone's breaking into your house, you're more than welcome to shoot them in Santa Rosa County. We prefer that you do, actually," Sheriff Johnson said.
"So, whoever that was, you're not in trouble, come see us. We have a gun safety class we put on every other Saturday. If you take that, you'll shoot a lot better, and hopefully you'll save the taxpayers money."
The message was taken by many on social media as an invitation for people to get their gun out and shoot at whoever they might believe to be a home invader and as a way for police to divert their responsibilities.
"So, if that's the case, we don't need a sheriff or police, just guns in every home," wrote one social media user.
"You think this will solve the problem? Why not protect the citizens yourself," wrote another user.
The comment space of a Fox News article covering Sheriff Johnson's speech quickly became the stage of a debate around gun control, gun safety, and self-defense.
One person tweeted that, in their opinion, "no person should be allowed to purchase/own a firearm without passing a safety & laws of deadly force course."
Others raised their concerns over the potential risk of increase in the rate of accidental shootings of loved ones and family members which could follow such a controversial advice, they said.
"You trust home owners to not mistakenly shoot their kid sneaking back into the house at 2am?" wrote one user.
Another wrote that he had "NEVER" been the victim of a break-in or home invasion while living in Washington D.C, L.A, Riverside and Philadelphia, but the time he had a gun pointed at him was "during road rage and by cops." The same user said that having guns in the home for protection "usually end[s] up killing someone in the home."
"A new law to support people who want to get rid of their spouses," one wrote.
Several people defended the advice of Sheriff Johnson.
"If you wake up with the sound of broken glass and then you notice someone walking up your stairs, 911 will provide you officers in 30 seconds? is all the time you will have," one user responded to one calling for police to do a better job at protecting citizens rather than encouraging them to take action in their hands.
"Do you not know what happens during a home invasion? Not many people manage to call the police during that time. The perpetrator is usually NOT thinking about using MINIMUM USE OF FORCE on you, but you could do that if you want and see how far that gets you," wrote another.
Sheriff Johnson began his career with the Santa Rosa County Sheriff's Office in 1993 and has been sheriff since his election in 2016. He was the first candidate to run for the role unopposed in 2020, according to the Santa Rosa County Sheriff's Office's website.
According to his bio on Twitter, on which he has not posted since 2016, Johnson is a Republican.
Newsweek has reached out to Santa Rosa County Sheriff's Office for comment.