Florida Sheriff Forbids Deputies From Wearing Masks as State Sets Record for COVID-19 Deaths
Marion County Sheriff Billy Woods is forbidding his deputies from wearing masks at work amid the coronavirus pandemic.
Woods issued the order on Tuesday and extended the ban on face coverings to visitors of the sheriff's office. Officers are exempted from the sheriff's order in certain locations, including hospitals and situations involving high-risk individuals or those who are potentially infected with the virus.
"We can debate and argue all day of why and why not. The fact is, the amount of professionals that give the reason why we should, I can find the exact same amount of professionals that say why we shouldn't," Woods wrote in an email obtained by the Ocala Star-Banner.
The same day he made the announcement to his staff, the state set a record high for COVID-19 deaths. On Tuesday, August 11, the Florida Department of Health recorded 276 additional deaths in the state, bringing death toll to 8,553.
Marion County also set a one-day record on Tuesday with 13 new deaths.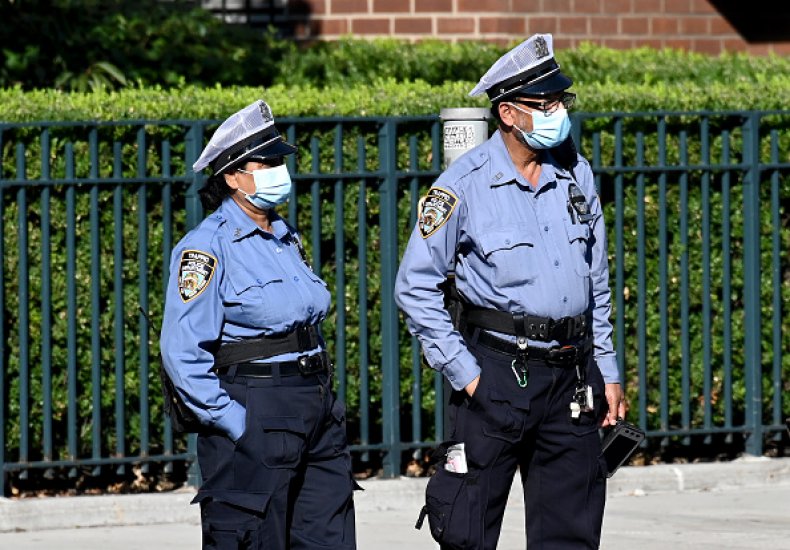 Florida began reopening in May, and the state has since become the national epicenter for the pandemic.
Governor Ron DeSantis has refused to implement a statewide mask mandate, unlike most other states, in efforts to control the spread of the virus. Many health experts and the Centers for Diseases and Control and Prevention have recommended face coverings as a key measure to slow the outbreak.
Ocala, one of the county's major cities, has also been struggling to come to a consensus on mask orders.
Last week, Ocala City Council passed an emergency ordinance requiring people to wear masks inside businesses, only for it to be vetoed by Mayor Kent Guinn on Monday. The council is expected to meet Wednesday to discuss overriding Guinn's veto.
Woods said in his email, that if deputies are confronted about not wearing a mask, officers should "politely and professionally tell them I am not required to wear a mask nor will I, per the Order of the Sheriff," at which point, Woods will take care of the complaint.
According to the Star-Banner, at least 36 Marion County Jail employees and over 200 inmates have tested positive for COVID-19. Recently, a nurse at the jail, who had been infected with the virus, died.
"This is no longer a debate nor is it up for discussion," the sheriff wrote. "Please keep in mind this entire pandemic is fluid and constantly changing the way things are done. However, my orders will be followed or my actions will be swift to address."
Newsweek reached out to the Marion County Sheriff's office for comment but did not hear back before publication.