In an emotional news briefing, Nassau County Sheriff Bill Leeper compared an officer shooting suspect to a rabid animal and told residents to "blow him out the door" should he break into their homes.
Police have been searching for Patrick Rene McDowell, 35, since Friday after he allegedly shot 29-year-old Nassau County deputy Joshua Moyers in the face and back during a traffic stop before driving away. On Saturday, Leeper announced that Moyers would not survive his injuries. He died the next day.
"This guy is dangerous. If you're in a home and he breaks into your home and you have a gun, blow him out the door cause he's like a rabid animal. He will kill you with his mindset. What he did to that deputy, was uncalled for, unnecessary and he needs to pay for it," Leeper said.
Moyers was shot just under his right eye during a 2:30 a.m. traffic stop of a Chrysler minivan, according to The Florida Times-Union.
Moyers' bodycam captured the incident, Leeper said. The footage showed that Moyers determined McDowell did not have a license and apparently provided a false name during the stop.
In the camera footage, McDowell is seen pulling out a handgun as Moyers returned to the vehicle and asked him if he had any weapons. After the police officer was shot and fell to the ground, McDowell allegedly shot him in the back before speeding away.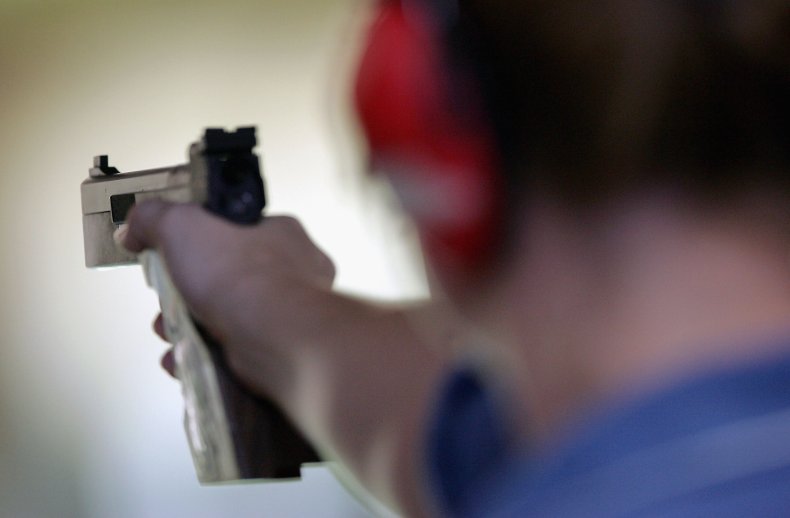 When more law enforcement agencies were called in for aerial and ground searches, McDowell allegedly shot a police canine, who is expected to survive, and evaded capture.
A massive manhunt for McDowell has been underway since the shooting and up to $54,000 in rewards are being offered by donors, including the Fraternal Order of the Police and the Florida Sheriff's Association, for information leading to his arrest.
"We now have a murderer on the loose in our community," Leeper said on Saturday.
Newsweek reached out to the Nassau County Sheriff's Office but they declined to comment further, pointing to Leeper's comments in the news briefing.
While the sheriff told residents to shoot and kill McDowell if he tried to enter their homes, Leeper also emphasized that no one should assist him.
"If we find out anybody has helped him or is going to help him, do not do that. If we find out you've helped this guy, we're going to arrest you. We're going to arrest you. We're going to arrest you for preventing us from capturing him," he warned.
More than 300 personnel are searching for McDowell. The suspected shooter is a former U.S. Marine who reportedly served in Iraq and is a trained marksman, according to local news station WJAX-TV. He should be considered armed and dangerous.
Moyers was described as a "great guy" by Leeper and was in the process of planning his wedding. A GoFundMe page was started to help raise money for his fiance to pay medical bills and other expenses.