Donald Trump Jr. Branded 'Disgusting' By Florida Survivor After Liking Shooting Conspiracy Tweet
A Florida shooting survivor has slammed Donald Trump Jr. as "disgusting" after the president's son liked a tweet suggesting the teenager was speaking out on gun control as a "cover" for his FBI father.
The president's son liked the online conspiracy theory that was posted by several people on Twitter about teenage survivor David Hogg, who has also been forced to defend himself against a conspiracy that he is a "crisis actor."
"Could it be that this student is running cover for his dad who Works as an FBI agent at the Miami field office Which botched tracking down the Man behind the Valentine day massacre? Just wondering. Just connecting some dots," Graham Ledger wrote in a message liked by the president's son.
Trump Jr. also liked a message shared by user Thomas Paine, featuring a video of Hogg speaking about gun control, accompanied by the message: "The kid who has been running his mouth about how Donald Trump and the GOP are teaming to help murder high school kids by upholding the Second Amendment is the son of an FBI agent. David Hogg is a school shooting survivor in Florida."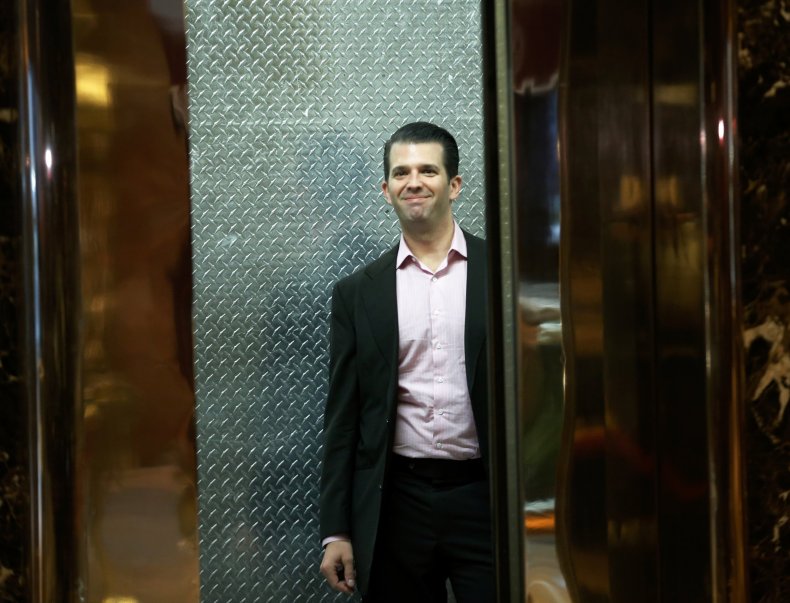 "At least that is what the mainstream media has told us. We wouldn't be surprised by anything involving the FBI at this point," he added.
Hogg, appearing on CNN alongside his former FBI employee father Kevin, said he could not believe the messages that had been shared on Twitter—nor the fact that they had been liked by the president's son.
"It's unbelievable to me that people are saying this, and the fact that Donald Trump Jr. liked that post is disgusting to me, but it's also false, in terms of the sense that––these people keep saying that I'm anti-Second Amendment. I'm not," Hogg explained.
"I want every American to be able to own a gun that has a mentally stable mind, a person that has a credible background, that doesn't have any previous major convictions, and somebody that's not gonna go out and commit these atrocities, 'cause those are the people that are at fault here. I do not want to take away the Constitutional rights of American citizens," he added.
A number of students who survived the massacre have urged the president to take action on gun control, with a march on Washington D.C. planned by a number of student activists for March 24.