Texas School District Will Suspend Students Who Walk Out To Protest Gun Laws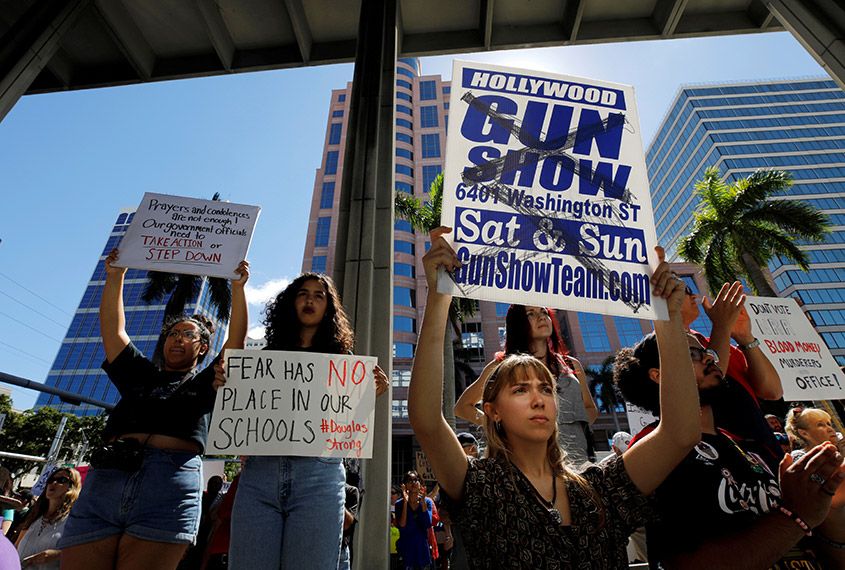 A Texas school district has threatened to suspend any of its students who stage walk out or cause other disruption in order to protest gun laws following the mass shooting in Florida.
Student survivors from Marjory Stoneman Douglas High School, in Parkland, Florida, where 17 people were killed in last week's attack, have been vocal about the need to discuss gun control.
But their invite to other students to join them in protests and walk-outs has resulted in a school district in Houston issuing a clear message to its students that disruptive protests would not be tolerated.
According to The Houston Chronicle, Needville ISD Superintendent Curtis Rhodes sent a letter out to all parents in the school district warning them that any protests from their children would result in a three-day suspension from school.
"Please be advised that the Needville ISD will not allow a student demonstration during school hours for any type of protest or awareness," Rhodes said in letter, seen by The Chronicle.
"Should students choose to do so, they will be suspended from school for 3 days and face all the consequences that come along with an out of school suspension," he added.
Students in Florida have already take part in walkouts, with student activists from Parkland calling for a national school walkout on March 14, and a 'March for Our Lives' planned on Washington D.C. on March 24.
But some students in Texas face suspension if they heed the call to action.
"A school is a place to learn and grow educationally, emotionally and morally," Rhodes added in his letter. "A disruption of the school will not be tolerated."
Following their calls for discussions on gun control, Florida survivors have been forced to defend themselves against conspiracy theorists who suggested they were "crisis actors," with Donald Trump Jr. liking conspiracy tweet on Twitter that suggested one survivor was involved in a cover-up because his father once worked for the FBI.