Sinkholes are a fairly common occurrence in Florida, making it tricky for residents seeking a home safe from the prospect.
Those looking for information about where sinkholes have been reported can check a map maintained by the Florida Geological Survey on the Florida Department of Environmental Protection's (FDEP) website.
However, the agency cautions that the data only documents "subsidence" incidents that have been reported by observers.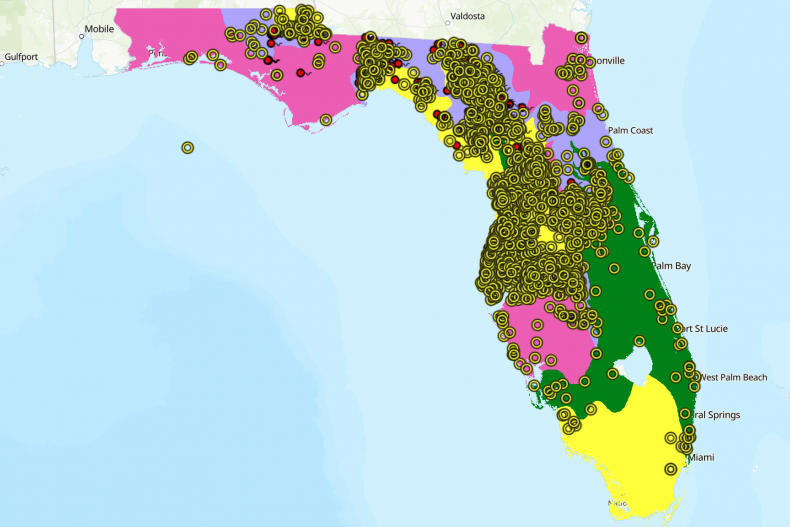 "The reported incidents tend to cluster in populated areas where they are readily seen and commonly affect roads and dwellings," the FDEP states on a FAQ section about sinkholes on its website.
The website also says that "although the data may contain some true sinkholes, most have not been verified by professionals and are collectively called subsidence incidents."
The U.S. Geological Survey (USGS) says sinkholes commonly occur when the rock below the land surface is limestone, carbonate rock, salt beds, or rocks that can naturally be dissolved by groundwater circulating through them.
The most damage from sinkhole tends to occur in Florida, along with other Southern states including Texas, Alabama, Missouri and Kentucky, according to the USGS.
No part of Florida is completely free of the risk of sinkholes, according to the FDEP, as most of the state is underlain with limestone, although there are regions that are more susceptible to sinkholes.
Sinkholes are particularly common in the Florida counties of Pasco, Hernando and Hillsborough—known collectively as the state's "Sinkhole Alley."
Paul Ivory, who lives in Pasco County, told WFLA that he went outside to cut the grass in his backyard at the weekend and came across a hole that was six or seven feet wide. "I couldn't believe it. I didn't know what... that's a sinkhole. I'm like how did that happen so fast," he told the station.
Ivory believes the heavy rain from Tropical Storm Elsa is to blame, but county officials haven't officially declared it a sinkhole or determined what caused it.
Similar incidents have also been reported in other parts of the state in the days since Elsa wreaked havoc across Florida.
Several holes opened up near a golf course in The Villages at the weekend. Officials originally said they were sinkholes, but later said engineers actually consider them to be "depressions."
Experts initially thought a sinkhole could explain last month's deadly collapse of part of a 12-story condo building in Surfside, the New Civil Engineer reported. However, Miami-Dade Mayor Daniella Levine Cava has said she has seen no evidence of a sinkhole.
The cause of the collapse is still not known, but a 2018 engineering firm's report highlighted several problems with the building.