Snooty the Smiling Shark Is so Friendly She's Become a Local Celebrity in Florida
A close-up photograph of Snooty, a "friendly" shark that has become a local celebrity in Jupiter, Florida, has been given an honorable mention in an underwater photo competition. The photo—which appears to show the female lemon shark smiling—was picked out from thousands of entries to the 2019 Ocean Art Underwater Photo Competition, the winners of which were announced Monday.
Lemon sharks are named so because of the faint yellowish hue of their skin, which helps them blend into sandy seabeds. According to Oceana, a nonprofit ocean conservation organization, adult sharks can grow to around 10-feet. The largest on record measured around 12.1 feet.
Lemon sharks can be found in shallow coastal waters, in mangrove forests and coral keys in parts of the Atlantic and Pacific oceans. Many⁠—like Snooty⁠—inhabit the areas around the Gulf of Mexico, feeding on fish, crustaceans, seabirds and other sharks.
Galice Hoarau, the photographer who snapped Snooty near Bonaire Wreck in Jupiter, said she is a particularly amenable shark. "Her smile and her ease around divers have made her a local celebrity," he said in a statement. "She always one of the first sharks to come on greet you when diving the Bonaire and she stays close by until the end of the dive. On this particular dive, I was focused on trying to capture her "smile", enjoying her willingness to play along."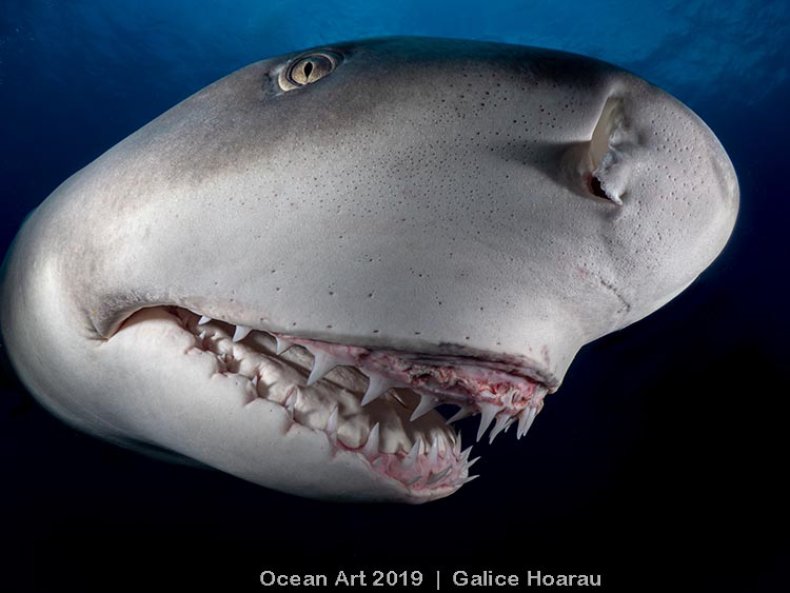 While they live in close proximity to humans, lemon sharks pose little threat to humans. According to the Florida Museum, there have only been 10 reported incidents of an unprovoked attack by a lemon shark. None were fatal.
The photo received an honorable mention in the Portrait category of the Ocean Art Underwater Photo Competition, which is organized by Underwater Photography Guide. The competition attracted thousands of entries from 78 countries, including a close-up of a open-mouthed seal that won Best of Show.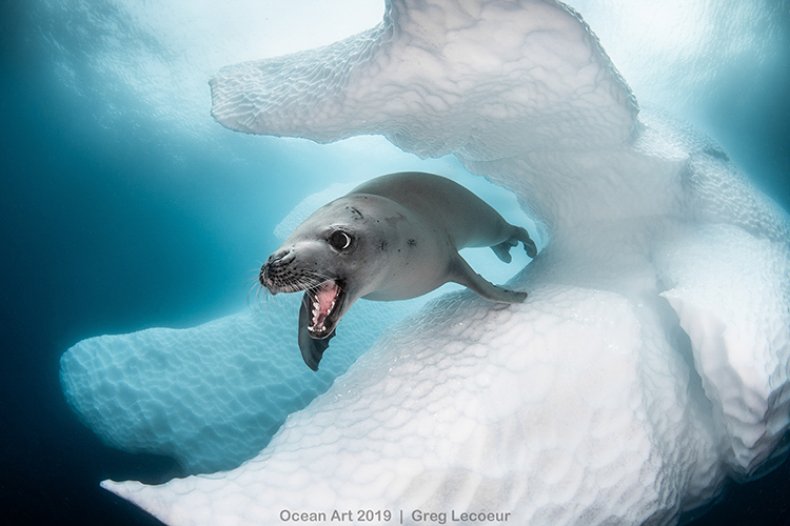 The photo was taken by Greg Lecouer, who was part of an exploration expedition in the Antarctica Peninsula when he came across this crab-eater seal, which despite its name, spends more time eating krill, cephalopods and fish than it does crabs.
Although the conditions were extreme with a temperature of -1°C, we documented extraordinary marine fauna at home in a fragile ecosystem, such as on this image: crabeater seal," said Lecouer. "We also saw leopard seals, gentoo penguins, Antarctica fur seals, and weddell seals. All these marine animals are affected by global warming with the melting of the ice."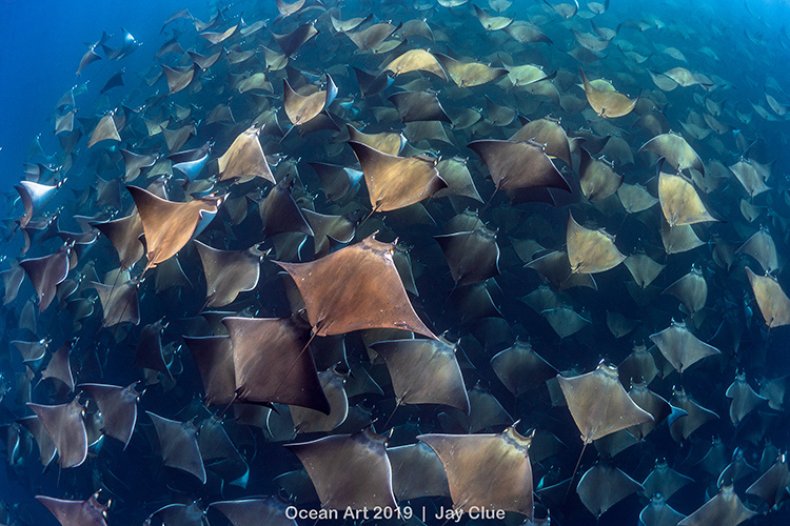 Jason Clue took this photo of an aggregation of munk devil rays in Baja California Sur in Mexico, winning an honorable mention in the category Marine Life Behavior.
According to the Memorandum of Understanding on the Conservation of Migratory Sharks, the species has only recently been described but is known for large formations (as seen here) in the Eastern Pacific.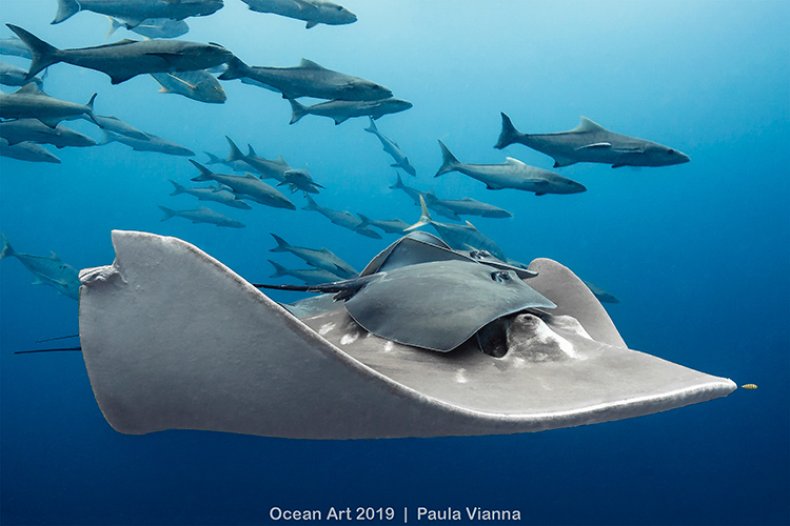 The winner of the Marine Life Behavior category was A Friendly Ride by Paula Vianna. The photo shows a pink whip ray hopping on the back of a small-eyed ray.
According to Vianna, it is thought they do this to save energy, protect themselves from predators and snap up any leftovers from the bigger ray's dinner.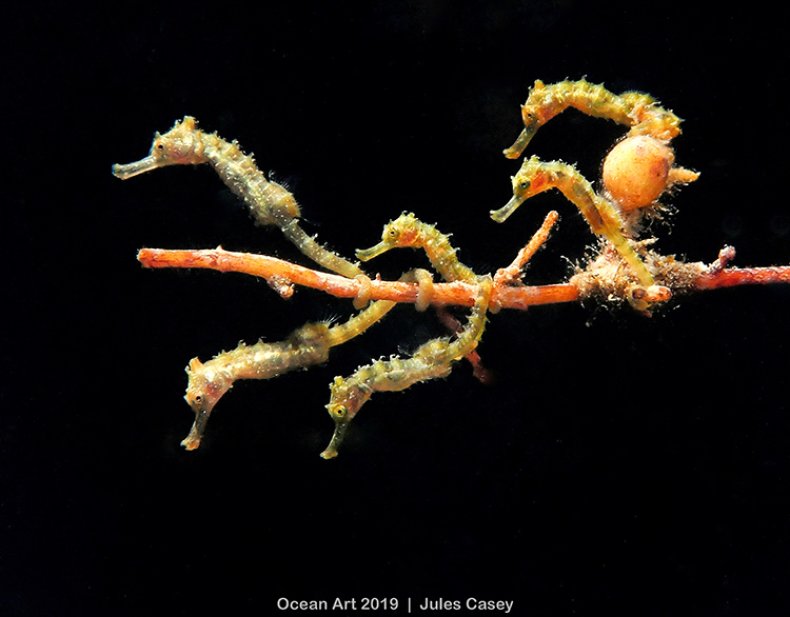 Jules Casey was declared winner of the Rising Star Photographer Award and Best of Show runner up for a picture entitled Seahorse Bus. The photo was taken in Blairgowrie marina, in Victoria, Australia, which Casey says has become a popular nursery for Short Head Seahorses.
"These babies will often pull in different directions & face away from the camera," said Casey, who has been taking videos of baby seahorses for around three years. "So I'm absolutely delighted to be able to share such a split second in time before this scene changed dramatically."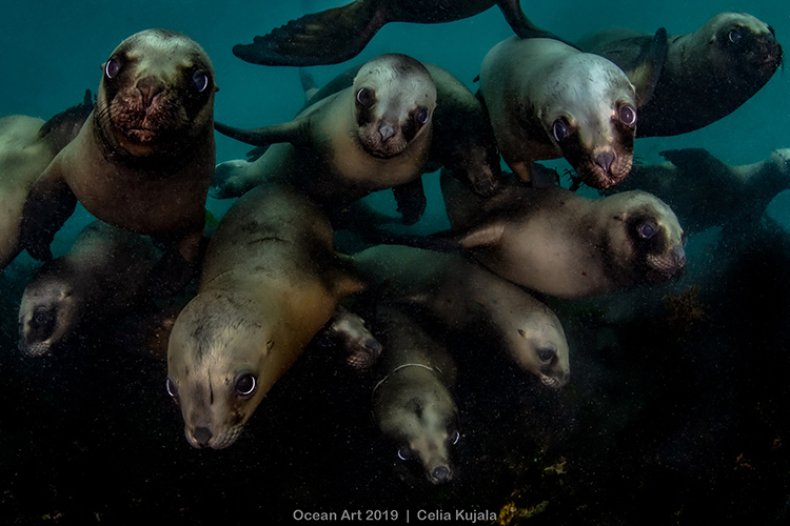 Winning an honorable mention in the Coldwater category was a photo featuring a group of curious sea lions, taken in the Punta Loma Reserve in Argentina by Celia Kujala.
"I was photographing one young sea lion who had a small scratch between her eyes when all of a sudden about a dozen more sea lions appeared all also curious and eager to welcome me to their domain," said Kujala. "All of them followed me, but I was able to create enough distance to capture this beautiful once in a lifetime experience that I will never forget."