Florida State Representative Rejects Calls For His Resignation Over High School Blackface Photo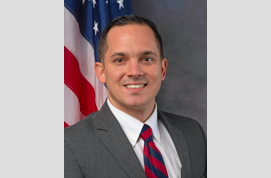 Republican Florida State Representative Anthony Sabatini has rejected calls to resign after an old high school photo of him in blackface resurfaced again this week.
The photo—which depicted a 16-year-old Sabatini with a blackened face while wearing gold jewelry, sunglasses and a New York Yankees hat—was anonymously mailed to Lake County media during his campaign against Democrat Cynthia Brown last year, reported Orlando Sentinel. In the wake of two prominent national blackface scandals, the controversy resurfaced when Brown called on Sabatini to resign through a Facebook post on Monday.
"This behavior is mean, cruel, and unacceptable for anyone—especially an elected official," Brown wrote. "Accordingly, I would urge Governor DeSantis and all state elected officials to ask for the resignation of Florida State Representative Anthony Sabatini who has also appeared in blackface."
She added: "Floridians need to know that our elected leaders will not accept this behavior and will stand consistently in opposing racism."
A day later, Florida Democratic Chair Terry Rizzo echoed Brown's sentiments and pressed for Sabatini's resignation. "Gov. DeSantis did the right thing in accepting Michael Ertel's resignation—and he and leader Jose Oliva should do the right thing and ask for the resignation of Rep. Anthony Sabatini," he wrote in a statement. "In calling out racist behavior Florida Democrats and Republicans should stand united."
Florida Governor Ron DeSantis did not immediately respond to Newsweek's request for comment.
But, Sabatini, now 30, defended the photo on Tuesday, claiming it had been "decontextualized" and insisted it wasn't intended to be racist. According to the state lawmaker, the photo was the result of a prank between two teenage friends who thought it would be funny to dress up as each other.
"I'm 16 years old, one of my best friends of the time was black, and we thought at the time—looking back, it was immature—it would be funny to dress as each other," Sabatini said, according to the Sentinel. "He dressed in my clothes—a Ralph Lauren polo shirt, shorts, Converse—and I dressed in his clothing... None of us thought 14 years later any of us would be a public figure and the photo would be decontextualized."
Meanwhile, Brandon Evans, Sabatini's friend from high school, defended the state lawmaker and corroborated his claims that the photo wasn't intended to be racist. "Every year at high school homecoming week, we had things like '80s days and celebrity days," Evans told the Sentinel. "We said, 'I'm going to be you and you're going to be me.' I don't know how it got to be seen as racial. That's all it was."
Evans pointed out that Sabatini "even had on my own personal necklace and everything."