A Florida state representative claimed President Donald Trump has "hatred" for Puerto Rico after a magnitude 6.4 earthquake killed at least one person and caused massive damage to the U.S. territory on Tuesday.
Democratic Florida Representative Carlos G. Smith made the remark as part of response slamming a Tuesday Twitter post from Senator Marco Rubio (R-Fla.) indicating that the senator had contacted the administration to request a "swift emergency declaration so that federal assistance can move quickly."
"So that federal assistance can MOVE QUICKLY, Senator @marcorubio??? Puerto Rico still hasn't received the billions of dollars Congress approved over 700 days ago because of Trump's hatred for the island," replied Smith. "Why don't YOU stand up to him for once in your life?"
Smith was referring to billions of dollars in aid promised to Puerto Rico after it suffered the devastating effects of Hurricane Maria in 2017. The disaster resulted in nearly 3,000 deaths and around $90 billion in property damage on the island.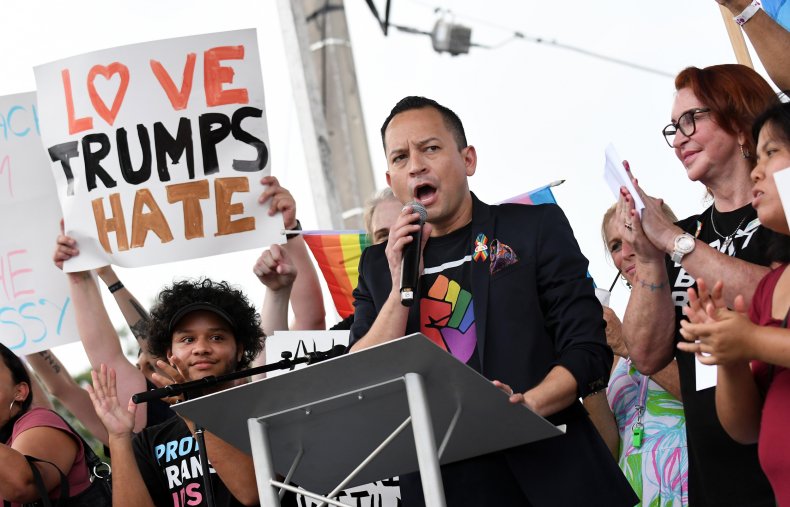 Trump's attitude toward the territory and his handling of the disaster has become a contentious political issue, with many Democrats heavily criticizing what they believe is the administration's willfully poor response. The Department of Housing and Urban Development has also been accused of illegally withholding billions of dollars in aid promised to the island.
Puerto Rico Governor Wanda Vázquez Garced declared a state of emergency after Tuesday's quake. Rubio was one of three top Republicans to send a letter to Trump urging him to grant Vázquez Garced's request for disaster declaration.
Although administration officials indicated Trump had been briefed and the situation was being monitored, as of Tuesday night, the president had not yet publicly commented on the Puerto Rico earthquake.
Several Democratic candidates for president quickly responded to the disaster on Twitter.
"I stand with the people of Puerto Rico, our fellow citizens, in this moment of need," tweeted former Vice President Joe Biden. "It's unconscionable that so much of the hard work of disaster recovery continues to be left undone. We've got to deliver concrete support for Puerto Rico now before more lives are lost."
Sens. Bernie Sanders and Elizabeth Warren also expressed a desire to help Puerto Rico and called for a quick response to the emergency. Sanders also admonished Trump for what he believes has been an inadequate response in the past.
"We must do everything we can to help Puerto Rico—which is still rebuilding from Hurricane Maria two years ago—in the wake of this earthquake," Sanders tweeted. "Time and time again the Trump administration has failed the people of Puerto Rico. That has got to end."
"My heart and thoughts are with the people of Puerto Rico today. I know they are resilient and I'll fight to ensure they receive the disaster assistance they need and deserve to recover from these earthquakes," tweeted Warren.
The full extent of damage from Tuesday's earthquake remains to be seen. It was the latest in a series of earthquakes that have struck Puerto Rico in quick succession, with a 5.4 quake rocking the island on Monday.
Newsweek reached out the White House for comment but did not receive a response in time for publication.