Florida state Senator Lauren Book is pushing a bill to strengthen revenge porn laws, making it a felony to buy or sell stolen sexually explicit photos after her own experience spurred her to take action.
Book told Newsweek in an interview on Tuesday that she was a victim of stolen images being leaked onto the internet. In November, somebody stole images of her from the cloud and created deepfakes, she said. After that, she said she encountered cyberstalking, cyberthreats and extortion threats to her and her family. She described the situation as "extremely dangerous and scary."
"I never in a million years could have imagined the type of pain and feel that level of violation," Book said, adding that she discovered that the photos had been on the internet since July 2020.
This incident made Book realize the lack of legal framework protecting people, especially women, in these types of crimes.
"I realized that this is happening to women all throughout the world, and more needed to be done around keeping women safe and girls safe, so I worked on this piece of legislation," Book said.
Book, a Democrat, is sponsoring Senate Bill 1798. The bill would make stealing sexually explicit images from someone's phone or any other digital device illegal.
Sexual explicit deepfakes, a changed or created image, would also become a felony under the legislation, the Associated Press reported.
The bill includes other provisions, such as increasing the monetary damages someone receives from violations involving sexual cyberharassment and permitting authorities to arrest someone without a warrant as long as they have probable cause to believe the individual has violated certain provisions, according to the bill's text.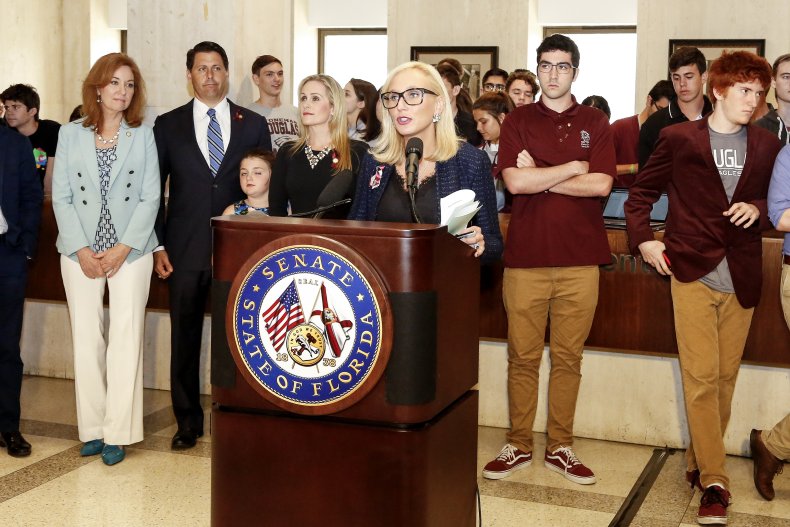 Book experienced childhood sexual abuse by her nanny for six years when she was a kid, she said. She told Newsweek she was "raped, sodomized, urinated on, defecated on as a means of controlling me for six years of my life."
The nanny pleaded guilty to five felony charges and was sentenced to 10 years in prison in 2002, The U.S. Sun reported. The sentence was later extended to 25 years.
And while there is trauma from the childhood sexual abuse, Book said that the recent incident with the stolen images was worse.
"In that space and in that time, I knew if I behaved some kind of way or if I don't do something, I know I could spare a really bad beating or something really terrible from happening," Book said. "Here in this situation, I had no warning, no knowledge, no idea, that this was happening. I don't know who the ultimate perpetrator is, and you don't know who's watching you in your most intimate moments."
Book added, "At the end of the day, I've never in my life felt so violated, betrayed, and all of that old trauma came back. All of that old stuff of feeling vulnerable and broken and exposed."
While she said that this is something she never wanted to have to endure, as a "young advocate" and "as a woman who reclaimed my life and did the work," she knows that she can take this "head-on."
"This is predominantly affecting women and girls, and I think it's my responsibility to stand up, to speak about the things that are happening and to look at the culture that's creating it," Book said.
Not only does the bill touch upon the selling and purchasing of sexually explicit photos, but it also proposes amendments for the state's existing child pornography laws. Another important thing Books champions is calling child pornography "child sexual abuse material," she said.
"That's important because child pornography implies that there is some consent, and we all know that children cannot consent to sex at all," Book said. "That's another very important piece of this bill that I'm very proud of and hope we can continue to champion this and get it over the finish line."
The bill went before its first committee, the state's Senate Criminal Justice Committee, in a hearing on Tuesday, according to the AP. The comittee unanimously approved the proposal. It will move next to a judiciary committee, Book said.
"I am proud to be able to work on a piece of legislation like this in my time here to make it different for other people," Book said.
Specialists from the Rape, Abuse, and Incest National Network (RAINN) sexual assault hotline are available 24/7 via phone (1 (800) 656-4673) and online chat. Additional support from the group is also accessible via the mobile app.