Florida State University's Campus Police Arrest 7 for 'Open House Party'
On Sunday, Florida State University (FSU) police arrested and charged seven students for hosting an "open house party" in defiance of the school's rules for preventing a COVID-19 outbreak.
The arrests reportedly occurred at a house belonging to the Alpha Tau Omega fraternity, a group the university disbanded for the next five years in August 2020 after allegations of hazing.
"The party, in which very few people were wearing face coverings or social distancing, resulted in several noise complaints and underage drinking violations. Those students will be held accountable by law enforcement as well as face disciplinary actions by the university," FSU President John Thrasher wrote in a letter to students on Tuesday.
Trasher added that he was "deeply concerned" over reports of other large gatherings that occurred in "sheer defiance" of the university's guidelines requiring students to wear face masks, maintain social distancing and not to congregate in groups larger than 10 people. The guidelines were communicated to all students before the start of the university's fall semester which formally begins on August 31.
"This pandemic is a huge safety concern for everyone," FSU Police Lieutenant John Baker wrote in a statement to students. "As police, we want you to be safe all the time. And as a university, we have taken so many extra precautions to make sure that our students, our faculty, our staff are safe. We just ask that you abide by those safety precautions we set forth."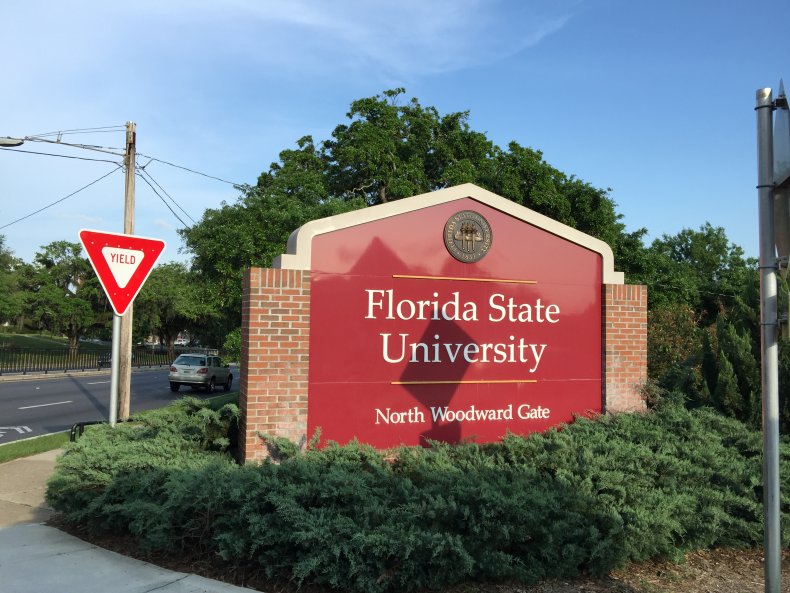 The hazing allegations that caused the fraternity to be disbanded for five years included allegedly forcing pledges to fight, to drink until they vomited, to adhere to semi-casual dress codes on campus and to complete a test on fraternity history while listening to loud, distracting music, according to the Tallahassee Democrat.
Newsweek contacted the Alpha Tau Omega fraternity at FSU for comment.
According to an FSU COVID-19 dashboard, 12,321 faculty and staff have so far been tested for coronavirus without symptoms, but only 28 have tested positive. Of the 10,898 students who have been tested through the university's Return-To-Campus Initiative and at its Student Health Care Center, 238 have tested positive.
"Any individual who has tested positive will be isolated, and anyone believed to be at risk of exposure will be contacted and asked to self-quarantine," the dashboard's explanatory text states.
As of August 25, Florida has reported over 605,000 confirmed cases of COVID-19 and 10,579 related deaths. Leon County, the county containing the university, ranks 22nd among the state's 67 counties with the highest overall number of coronavirus cases. Florida ranks third among U.S. states with the highest overall number of COVID-19 cases.