Florida Stops Selling Alcohol In Bars After Reporting Over 8,900 New Coronavirus Cases in Single Day
On Friday, Florida's Department of Business and Professional Regulation (DBPR) announced that it was suspending the consumption of alcohol at bars across the state.
"Today, the Florida Department of Business and Professional Regulation (DBPR) suspended the sale of alcoholic beverages for on-premises consumption at all bars throughout the state," the department wrote in a press release emailed to Newsweek. "The suspension of alcohol sales directed by DBPR Emergency Order 2020-09 is effective immediately."
In the press release, DBPR Secretary Halsey Beshears stated that, "based on recent increase in COVID-19 cases and non-compliance with previous orders, DBPR has taken action to suspend on-premises alcohol sales at bars."
"DBPR believes this is a necessary step to take to protect public health as we continue working in partnership with industry and health officials to combat COVID-19," Beshears added.
Just moments prior to the announcement by the DBPR, the city of Jacksonville Beach announced a suspension on the sale of alcohol in bars across the city between the hours of midnight and 2 a.m. local time.
"All establishments in the City of Jacksonville Beach permitted to sell alcoholic beverages for consumption on-premises between the hours of 12:00 midnight and 2:00 a.m., shall not sell, serve or provide any alcoholic beverages between the hours of 12:00 midnight and 2:00 a.m. on-premises or to be taken from the premises for as long as there remains a Florida statewide declared state of emergency of City declared local emergency or unless this Emergency Order is rescinded or modified," the city wrote in a press release.
"We recognize that we're seeing a pretty decent spike in cases primarily because of the impact at the bars," Jacksonville Beach Mayor Charlie Latham said, according to Action News Jax in Florida.
The decision by DBPR comes as cases of the new coronavirus, which causes the respiratory disease COVID-19, continue to increase across Florida. According to the Florida Department of Health, 8,942 new cases were reported on Friday, and Wednesday and Thursday saw over 5,000 new cases reported, bringing the state's total numbers to at least 120,574 confirmed cases and 3,366 deaths.
The surge in cases across Florida has not only led to a suspension in the sale of alcohol but has also prompted Governor Ron DeSantis to pause the state's phased reopening plan.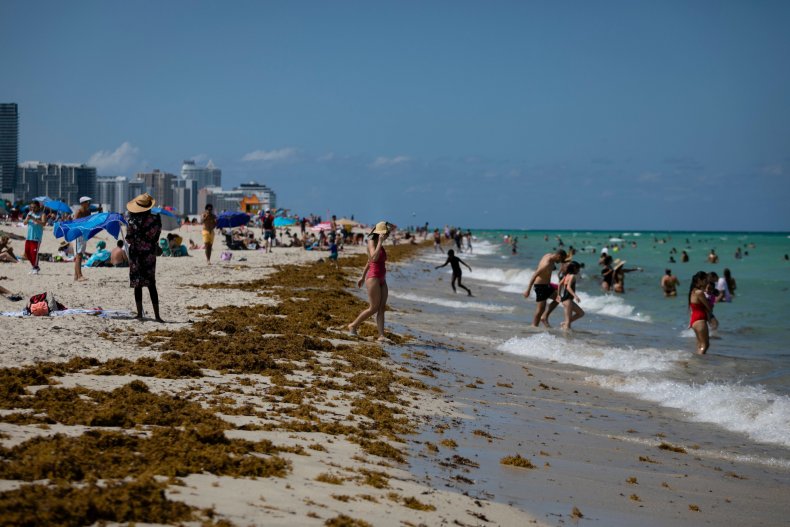 During a press conference on Thursday, DeSantis was asked about the surge in cases across the state and how it affects the state's reopening plan, to which he responded by saying, "We are where we are. I didn't say we were going to go on to the next phase."
"We never anticipated doing anything different in terms of the next phase at this point anyways," the governor added.
A number of other states, such as Texas, Arizona and California have also seen a surge in COVID-19 cases over the past weeks. According to a tracker provided by Johns Hopkins University, there are currently over 2.4 million people across the U.S. as well as at least 124,509 deaths.
Newsweek reached out to DeSantis' office for comment but did not receive a response in time for publication.