Florida Stops Using Quest Diagnostics After Lab Sends Back 'Unusable' COVID Results
The Florida Department of Health (DOH) will no longer be using Quest Diagnostics for COVID-19 testing after the testing laboratory failed to send back thousands of results in time.
Under orders of Governor Ron DeSantis, the DOH and the Florida Division of Emergency Management (FDEM) will sever all ties with Quest Diagnostics for the lab's "failure to follow Florida law and report all COVID-19 results in a timely manner."
"Quest's failure to report nearly 75,000 results dating back to April means most of the data in today's upload—while it will have historical significance—will have little impact on the status of the pandemic today," the department said in a statement on Tuesday.
The laboratory entered data from nearly 75,000 tests into the DOH's monitoring system on Monday night. Most of the data was more than two weeks old and some of it almost five months old, according to the department.
"To drop this much unusable and stale data is irresponsible," DeSantis said in a statement. "I believe that Quest has abdicated their ability to perform a testing function in Florida that the people can be confident in. As such I am directing all executive agencies to sever their COVID-19 testing relationships with Quest effective immediately."
Without the backlogged data, the DOH had calculated the state's positivity rate to be 5.9 percent. The additional 3,870 positive cases entered into the system by Quest brought the positivity rate up to 6.8 percent.
Quest said the delay in reporting was due to a technical issue, in a statement released Tuesday.
"We apologize for this matter and regret the challenge it poses for public health authorities in Florida. The issue has since been resolved. Importantly, the issue did not affect or delay reporting of test results to providers and patients," the statement read.
Although the delayed reporting prevented the state from having a more comprehensive understanding of the coronavirus situation in Florida, everyone tested by Quest was notified of their results.
"Therefore, while significant, this unacceptable dump of test results is a data issue and does not impact the health of individuals or the spread of COVID-19 in Florida," the department said.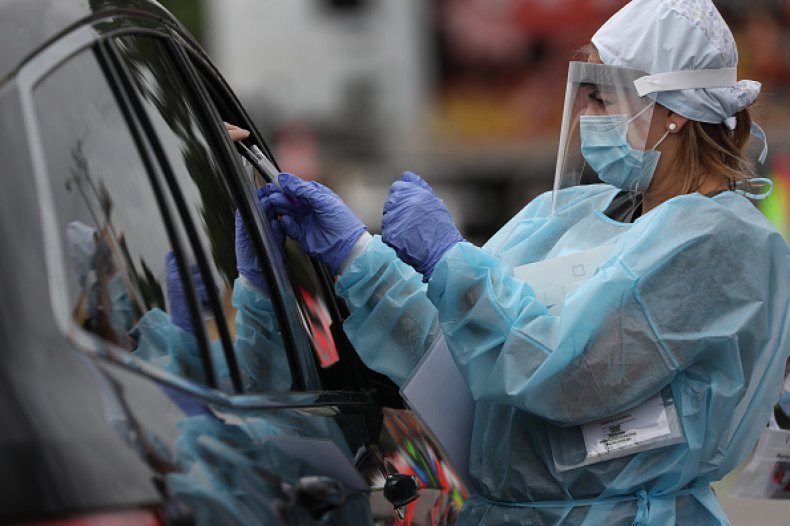 Quest Diagnostics is a nationwide lab that has conducted at least 13 percent of the state's tests. The FDEM partnered with Quest to create a number of additional testing sites in Florida.
"Whenever a lab does not fulfill its obligations to provide testing results with an acceptable turnaround time, or report those results to the state, the Division stops doing business with that lab," FDEM's communication director Jason Mahon told Newsweek in an emailed statement.
According to the Tampa Bay Times, only one other laboratory has processed more coronavirus tests from Florida in the past six months. However, Mahon said severing ties with Quest will not overwhelm the state's capacity to continue testing Floridians for COVID-19 in a timely manner.
"The state uses several labs at state-supported testing sites, and we have no concerns with transitioning the few sites that utilized Quest to labs that will be able to step in and provide COVID-19 testing while meeting expectations and following Florida law," Mahon wrote.
On August 17, Quest said it had cut turnaround time to one to two days, in comparison to the seven days patients were waiting a month ago.
The testing provider said its current capacity was 150,000 tests a day and announced plans to "scale up our capacity to 185,000 tests a day by Labor Day with further gains possible after that."
"Quest Diagnostics has provided more COVID-19 testing on behalf of the citizens of Florida than any other laboratory and we believe we are well positioned to continue to effectively aid patient care and public health response for the state. We remain open to working with the state Department of Health to provide testing that meets the needs required for patient care and public health response," the company said in a statement.
Quest referred Newsweek to the above statement when reached for comment.