#Bracott: Florida Student Forced to Cover 'Distracting' Nipples With Band-Aids Fights Back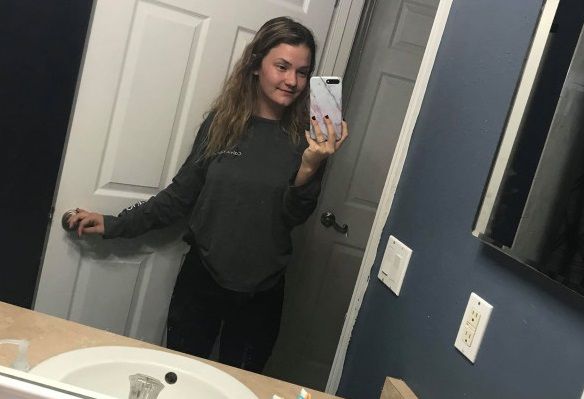 A 17-year-old Florida high school student who was forced to cover her nipples using Band-Aids because she wasn't wearing a bra and "distracting" her classmates is now encouraging others to take part in a "bracott" protest.
Braden River student Lizzy Martinez said she was left embarrassed after being pulled into the school's office and told to put on another shirt underneath her long-sleeve T-shirt by school Dean Violeta Velazquez because of her "protruding" nipples.
"She told me that I needed to put a shirt on under my long-sleeve shirt to try to tighten my breasts—to constrict them," Martinez told the Bradenton Herald. "And then she asked me to move around."
After putting on the second shirt, a school nurse then handed Martinez four bandages in order to 'X' out her nipples. The teenager said she then went to the bathroom and cried because the incident left her "mortified."
Martinez later tweeted about it, and the message went on to gain nationwide attention. She wrote: "I decided not to wear a bra today and got pulled out of class bc one of my teachers complained that it was a 'distraction to boys in my class.' My school basically told me that boys' education is far more important than mine and I should be ashamed of my body."
Martinez is now encouraging other students to take part in a "bracott" at their schools on Monday, April 16, in order to show support for the "destigmatizing of natural bodies."
"It's ridiculous that it's even a discussion, but clearly we have to have a conversation about people respecting girls and their choices to wear a bra or not wear a bra," Martinez told Insider.
Those talking part in the protest are also encouraged to wear band aids over their shorts and to wear clothing with a message.
Speaking to Buzzfeed, the 17-year-old's mother, Kari Knop, said the incident is another "disgusting example of a double standard" that "shows how our culture body-shames women."
She added: "If a boy was staring at her nipples that long, why was he not spoken to or punished?"
"This matter was brought to the attention of the Superintendent's Office for review," the district's general counsel, Mitchell Teitelbaum, said in a statement.
"It is undisputed that this matter should have been handled differently at the school level and corrective measures have been taken to prevent a reoccurrence in the way these matters will be addressed in the future. There was a violation of the School Dress Code and it was an appropriate matter to address by the School. It is clear the intent of school officials was to assist the student in addressing the situation. No disciplinary action was taken in relation to the student."
The school's dress code does not specifically state that students must wear a bra but merely "dress appropriately" with proper attention given to "personal cleanliness, grooming and neatness."