Florida Students Broke Into Apartment Complex for Massive Labor Day Pool Party
A Labor Day pool party that took place at an off-campus student apartment complex in Florida is under investigation.
A large number of people broke into the pool area at the Catalyst apartment complex on West Madison Street, not far from the Florida State University (FSU) campus in Tallahassee, for the gathering on Monday.
A video taken by Twitter user @LillieBrody showed people crowded around the pool at the apartment complex, neither adhering to social distancing guidelines nor wearing masks.
The clip caught the attention of Florida State Rep. Anna Eskamani after it was tweeted by Jonathan Marcus, a student at FSU.
"This is not my video, but this is my problem," he wrote. "When these students go out into the #Tallahassee community, be it a grocery store, restaurant, or a park, they will be spreading the virus. My fellow FSU students: STOP DOING STUFF LIKE THIS. TALLAHASSEE IS NOT A PLAYGROUND."
"Wow, is this recent?" Eskamani tweeted in response, tagging Tallahassee lawmakers. She has been contacted for comment.
University Communities LLC, which manages the apartment complex, told WTXL in a statement that the pool area is currently permitted for use by residents only with a maximum of 25 people around at any time.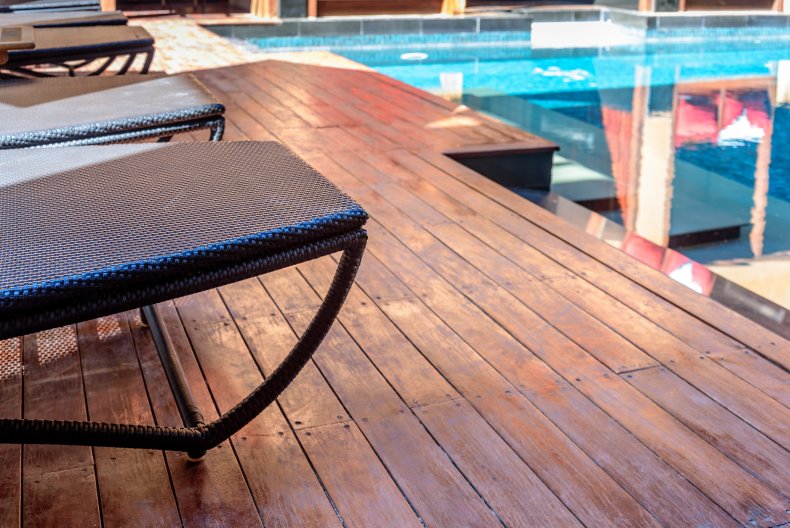 The pool area was closed over the holiday weekend, but people vandalized the entrance to gain access on Monday, the company said.
"Unidentified individuals vandalized the pool entrance and office entrance to gain access, and the gathering was ultimately ended when security hired by property management required all attendees to leave," the statement said in part.
The company is now working to identify those involved and will involve law enforcement as needed.
"Property management is working to identify all individuals involved in the incident and will take all steps necessary to enforce the rules and regulations for the residential community and will involve law enforcement as needed," the company added.
In a statement on Tuesday, FSU said it was aware of large gatherings that had taken place off-campus.
"Administrators are disappointed to see the public health guidance provided on multiple occasions has been disregarded by many," the statement said.
The university also said there had been a rise in coronavirus cases on campus as well in the local community, coinciding with the start of the fall semester.
"The health and safety of everyone and the success of our fall semester depends on both personal and community responsibility," the statement said. "FSU is again requesting local establishments and apartment complexes step in with appropriate restrictions where off-campus students are congregating."
The university said random testing of the campus population will begin September 14 to help detect the possible spread of COVID-19.
@LillieBrody and University Communities LLC have been contacted for additional comment.
This graphic, provided by Statista, shows the states with the most COVID-19 cases as of September 7.