Florida Super-Spreader Wrestling Tournaments Caused At Least 79 COVID Infections, 1 Death, CDC Says
Florida has opened its sports arenas to players and spectators over the last nine months, regardless of the sport and no matter the level of competition. From youth sports to professionals, the Sunshine State has championed athletics, whether it was indoors or out.
This is while the state recently passed the 1.6 million mark of positive COVID-19 cases, which is third in the country only behind California and Texas.
On Tuesday, state officials declared they want to make a bid for this year's Tokyo Olympics should Japanese officials decide not to hold the Games that have already been postponed once because of the virus. Later in the day, the Centers for Disease Control and Prevention (CDC) published a report of Florida two high school wrestling tournaments from December that turned into a COVID super-spreader.
The report states that a total of 10 schools from three counties participated in the tournaments, and that masks weren't used because of the obvious choking hazards that can result from wearing them during such a rough contact sport.
Once the tournaments ended, nearly 80 people grappled with the virus, and one person has died so far from COVID, according to the CDC report.
This story goes back to the first week in December when two wrestling tournaments were held in one county over December 4 and 5. The host school participated both days. Five teams from two separate counties participated on the first day, and four schools from another county participated the second day. In all, there were 130 wrestlers, coaches and referees over the two-day span.
Two days later, on a Monday (December 7, 2020), local health officials reported that one person who attended both tournaments had an antigen-positive test, which led them to test other participants.
Over the next two days (December 8-9), 13 wrestlers from one school tested positive. Nine of them had COVID symptoms, two were asymptomatic and two others are unsure of their symptoms status at the time of the test.
Once testing hit all the participating schools, a total of 54 of the 130 attendees were tested (41.5%), and 38 positive cases came back.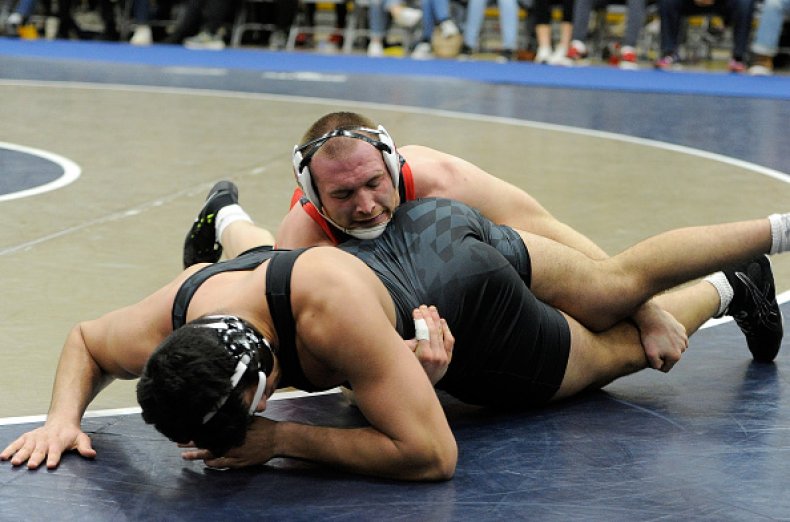 The multiple cases triggered contact tracing, and this is where the spread of the virus continued beyond the wrestling mats and gymnasiums. Those included classmates, teachers, noncompeting wrestling team members, other school athletic team members and family members.
One person over the age of 50 died, according to the CDC report.
In all, approximately 1,700 days of classroom learning was lost from the quarantine of not just the infected people, but those others they may have come in contact with. The CDC says that number could have been much higher if they had not been so close to the holiday break.
"The number of in-person school days lost would likely have been higher had the outbreak not occurred toward the end of the fall 2020 semester. In addition, this outbreak resulted in the suspension of all winter indoor and outdoor high school athletics in county A, affecting approximately 1,500 students," the CDC stated.
The American Academy of Pediatrics, in their guidance for a return to sports, advised athletes to not wear masks during wrestling because of the choking hazards it could cause while covering the face. The same goes for other high-contact sports.
"High-contact school athletic activities for which mask wearing and physical distancing are not possible should be postponed during periods with substantial or high levels of SARS-CoV-2 community transmission," the CDC claimed.
Florida recently held several college bowl games, including the College Football National Championship in Miami. Its college and pro football teams played before modified crowds, and Tampa will host Super Bowl LV on February 7, although it will be before just 22,000 people.