Florida Superintendent Compares Reopening Schools to Navy SEAL Operation As Students Forced to Quarantine
Reopening schools amid a pandemic is so challenging that Martin County, Florida, Superintendent Laurie Gaynor likened it to a Navy SEAL operation.
At Wednesday's briefing, Governor Ron DeSantis said Gaynor made the comparison during a conversation the two had that day. Just as the SEALs involved in the 2011 raid of Osama bin Laden's Pakistan compound had to overcome obstacles to bring him to justice, DeSantis said "so too would the Martin County school system find a way to provide parents with the meaningful choice of in-person instruction or continued distance learning."
"All in. All the time," DeSantis, a Navy veteran, added, quoting a SEAL saying.
Martin County schools gave parents two options for the upcoming school year: return to a traditional school experience or continue virtual learning. On Tuesday, students were once again back in the classroom, but by the end of the second day of the new year, at least one classroom was forced to quarantine.
Officials instructed nine children in a classroom at SeaWind Elementary School in Hobe Sound, north of Palm Beach, to quarantine for 14 days and attend classes virtually after a fellow student experienced symptoms, WPBF reported. School district public information officer, Jennifer DeShazo, told WPBF that it's unclear if the student has COVID-19, the disease caused by the new coronavirus, but the Department of Health helped the district determine a quarantine was necessary.
Those who rode the bus with the student who experienced symptoms must also quarantine. Teachers are considered essential workers so the educator may continue to come to work if they have no symptoms.
"It's unfortunate. We don't want our students and employees to feel ill," DeShazo told WPBF. "We don't want to have people having to quarantine, but the process worked today."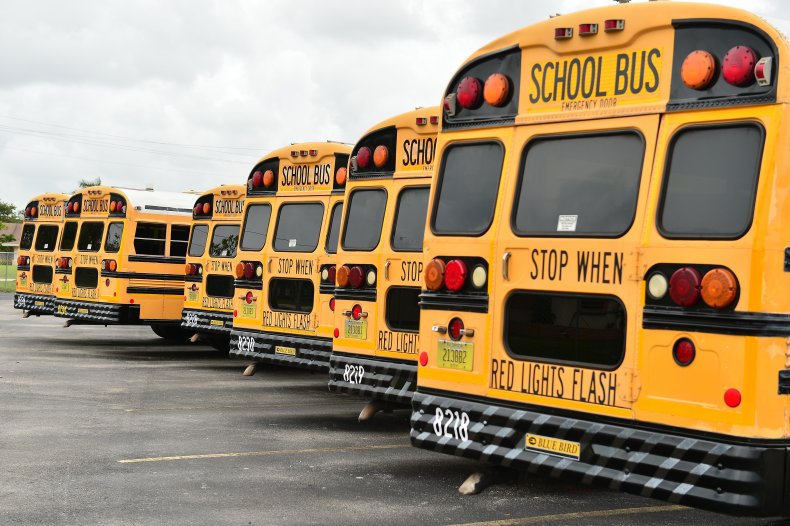 Newsweek reached out to the Martin County School District and DeSantis for comment but did not receive a response in time for publication.
On Wednesday, DeSantis acknowledged it's a "challenging time" for schools and that districts are keeping a "keen eye" on "coronavirus indicators." He also urged caution in relying solely on data to make decisions, as it can be limited.
Florida, which has the second-highest number of cases of any U.S. state, saw a massive spike in cases in mid-July. New cases started to decline at the end of the month and remain lower than they were during the spike, although daily new cases are still significantly higher than they were in April, May and much of June.
Not yet "where we need to be," De Santis said officials were encouraged by the downward trend in cases, hospitalizations and deaths. He also attributed the Wednesday spike in cases in Miami-Dade County to a "data dump" and not a "sudden surge in new infections."
"The data was stale and not indicative of current trends, much less a 'record day of fresh infections in Miami,'" De Santis said. "Stale test results shouldn't be used by policymakers to determine the way forward for students, parents, workers and businesses in the here and now."
The Florida Education Association filed a lawsuit challenging a mandate that schools reopen campuses. The union argues that the order violates the state Constitution and the order from Education Commissioner Richard Corcoran says districts outside of Miami-Dade, Palm Beach and Broward Counties risk losing funding if they don't open, according to WJXT.
The state's lawyers, however, argued that the mandate doesn't require all students and teachers to return to school. On Thursday, Leon County Circuit Judge Charles Dodson will hear the state's motion to dismiss the lawsuit.
Florida Superintendent Compares Reopening Schools to Navy SEAL Operation As Students Forced to Quarantine | U.S.