Florida Warns of Superspreader Events at Church Choirs and House Parties As All State Coronavirus Restrictions Lifted
Florida health officials say they are investigating two potential coronavirus superspreader events after Governor Ron DeSantis lifted the state's COVID-19 business restrictions last Friday.
Dr. Raul Pino from the Florida Department of Health in Orange County told WKMG on Monday that the events took place over the previous week. He did not disclose further details but said that more would be released once an investigation had been conducted.
"We are not 100 percent sure but we are looking to our data. We think that we have detected a couple of events superspreading in the last week and as soon as we have all the tracking information in place, we will display the data for you," Pino said.
While investigators are still trying to determine exactly how many individuals were infected at both gatherings, preliminary evidence suggests that one of the events may have resulted in around 20 new COVID-19 cases.
"We think there have been some super spreader events around the county: church choirs, house parties, tailgating," Pino told the Orlando Sentinel. "These events [are] where people tend to be very loud, active, socially engaged [and] you drop in one person with COVID-19 and you get 20 [cases]. It can get out of control and be difficult to track."
Orange County has seen a fall in case numbers over the past seven days but Pino said people should not become complacent.
"We have to admit that we are all tired of wearing masks, of being isolated, of being at home and changing our lives in a way that we are not accustomed to," he told the Sentinel. "It gets to a point that sometimes you might say, 'What the heck!' But people can get sick."
Superspreader events occur where one person infects many people in rapid succession. Scientists think they have played an outsized role in the spread of the virus, with studies suggesting that between 10 and 20 percent of infected people are responsible for around 80 percent of virus transmission.
Pino said officials believed that at least one person infected others at both potential superspreader events—which were attended by at least 50 people—in Orange County.
Last Friday, Gov. Ron DeSantis announced that the state would enter Phase 3 of its reopening, meaning that residents could no longer be fined for not wearing masks, while statewide restrictions on business were lifted, allowing bars and restaurants to operate at full capacity.
Before the announcement, bars and restaurants could only operate at 50 percent capacity indoors, although local governments will still be able to implement their own restrictions if they can provide sufficient justification.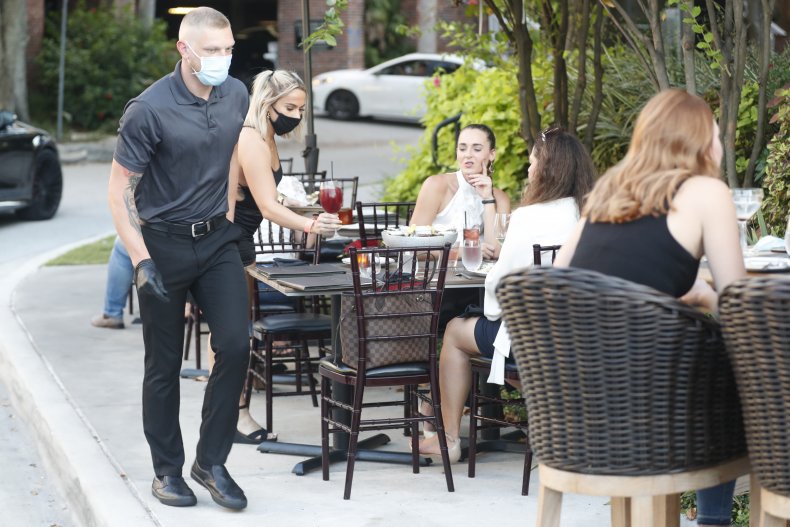 "Every business has the right to operate," DeSantis said on Friday at a news conference. "Some of the locals can do reasonable regulations. But you can't just say no."
The number of new daily coronavirus cases have been falling in Florida since mid-July, although the state recorded 738 on Monday taking its total for the pandemic to 701,302, according to John Hopkins University. Health department figures show that 14,037 residents of the state have died as a result of COVID-19.
Following the governor's announcement, Orange County Mayor Jerry Demings said that the responsibility is now on local governments and businesses to ensure that they operate safely.
"I think one of the things that businesses can do is mandate the wearing of facial coverings, they could still make the decision to socially distance their patrons. So does the government need to tell you to do that in a public health crisis? I don't think so," Demings told WKMG.