'Hey, I Got Bit by a Shark': Florida Surfer Goes to Bar Rather Than Hospital to Brag About Ordeal With Animal
A professional surfer who was bitten by a shark on Saturday afternoon skipped hospital and instead headed to a bar to get drinks after his ordeal. Frank O'Rourke was in the water by the pier on Jacksonville Beach in the coastal resort city in northeastern Florida when a shark bit his arm at around 3:30 p.m., News 4 Jax reported.
The 23-year-old told First Coast News he was lying on his surfboard around 20 to 30 yards from the pier's south side at the time. The attack, which lasted around 30 seconds, was the "craziest thing to have happened to me in my life," he said.
"I felt something jump out of the water and latch onto my arm by my elbow. It just grabbed onto me and thrashed in the water and swam away," he told First Coast News. The shark punctured O'Rourke's skin near his elbow, drawing blood.
"I'm very lucky that I still have an arm," he said. "You can see the jawline, like where the jawline is of the shark [...] There's still blood on my surfboard."
O'Rourke said he has been surfing for two decades and has seen sharks by the pier before, but has never been bitten by one.
"I've honestly seen a lot of sharks surfing my whole time, but I've never seen one that close and in that kind of aggression," O'Rourke told NBC. "It was coming at me, not around me. So, it was definitely interesting. I was scared for sure."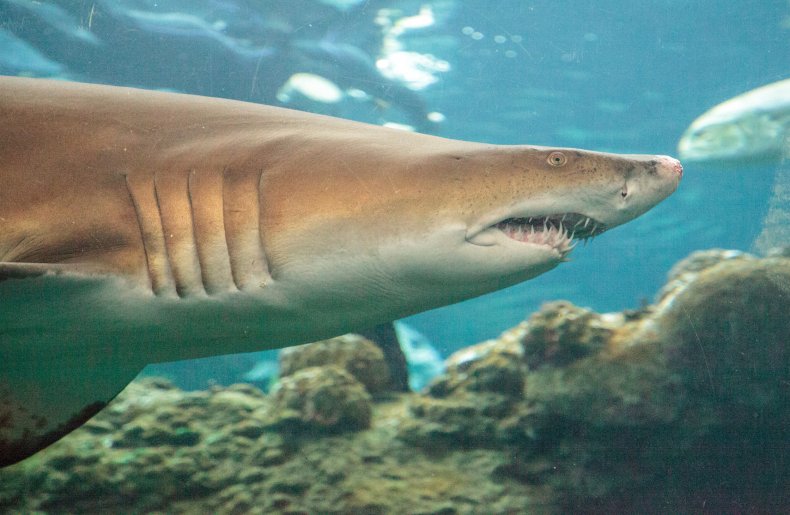 RJ Berger, O'Rourke's friend who witnessed the attack, told News 4 Jax: "It was kind of panic, like, 'Did that just happen?'"
It took O'Rourke a few seconds to gather himself and realize what had happened, Berger said. Berger told News Jax 4 his friend didn't go to the hospital. O'Rourke told First Coast News he had his arm bandaged.
"He immediately went to a bar 'cause he was like, 'I got bit by a shark,' and people were like, 'I'll buy you drinks.' So he went and hung out at the pier," Berger said.
Berger estimated the shark was a spinner or blacktip measuring between three to four feet long.
O'Rourke shared a photo of his bloody arm on Instagram, alongside the caption: "Wow what a weekend. I'm thankful to come away with minor injuries from a shark that bit me Saturday! [...] I appreciate all of you and everyone else with their kind words and love!," he said.
After 20 years of surfing, O'Rourke told First Coast News he'll be heading back into the water after his wound has healed.
The attack was the second off the eastern coast of Florida within an hour of each other. Around 100 miles south on New Smyrna Beach, a shark bit a 49-year-old man who was riding a boogie board, Volusia County Beach Safety told CNN.