Swedish Man, 44, Accused of Having Sex With Florida Girl He Met Online Knew It Was Wrong but Risked It Because He Was in Love
A 44-year-old man who flew from Sweden to Florida to have sex with an underage girl said he knew he was breaking the law but decided to risk it because he was in love. Joaquin Rustan Nabi Olsson admitted to having sex four times with the girl whose age was between 12 and 16 years old.
Police were alerted by concerned neighbors who saw the man with the girl at a Palm Bay motel. Officers found the girl's luggage as well as used condoms in the trashcan in Olsson's room, Florida Today reported.
He told detectives from the Palm Bay Police Department that he met the girl online and was communicating with her through Instagram. He said he first flew to Florida in March and the pair spent time together in malls and in his hotel room but did not have sex until he returned to the U.S. two months later.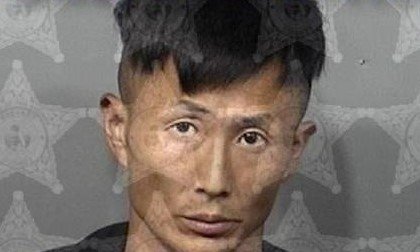 Joaquin Rustan Nabi Olsson admitted travelling from Sweden to Florida to have a sexual relationship with an underage girl.
Brevard County Sherriff's Office/Brevard County Sherriff's Office
According to the affidavit, Olsson knew the girl's age but "decided to chance it" because he "loves" the victim, according to arrest reports, Orlando.com reported.
Authorities said the victim told police she was not threatened or forced to have sex with the suspect whose legal guardian was her aunt and who knew nothing about the relationship.
Olsson was charged with two counts of traveling to meet a minor after using a computer device to solicit sex, and three counts of lewd or lascivious behavior. He appeared in court on Monday, where he was denied bond by a Brevard County judge.
"I'm concerned about your residence. I'm concerned about the allegations," Judge Kelly Ingram said. Under the court ruling, Olsson can have no contact with the victim or her family.
Earlier this month, a 21-year-old Jacksonville man was charged with having a sexual relationship with a 13-year-old Palm Coast girl he met on the dating website Plenty of Fish, according to Flagler County Court Documents.
Jeremiah Bo Sirrine was charged with lewd or lascivious battery after being accused of entering the victim's bedroom through her window in January. He is said to have been talking with the victim on Snapchat and Google Hangouts prior to meeting her, ClickOrlando.com reported.
Also in Florida, a doctor was arrested, accused of raping a 15-year-old boy in DeBary, Volusia County.
Authorities are searching for other possible victims of Alexander Ralys, 30, who allegedly committed the offense while he was was staying at his childhood friend's family home, according to True Crime Daily.